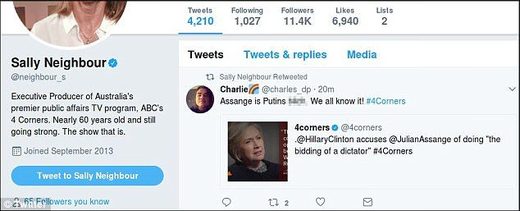 WikiLeaks founder Julian Assange has slammed the ABC, accusing the national broadcaster of breaching their own code of practice.
Assange said he should have been asked for a response to comments made about him by Hillary Clinton during an interview which aired in Australia on Monday.
The WikiLeaks founder's criticism comes as Four Corners interviewer Sarah Ferguson revealed on radio she thought Hillary Clinton 'has been through enough'.
'A sad day for Four Corners,' Assange told
Daily Mail Australia
,
'WikiLeaks has a pristine record for accuracy. Clinton stands alone in suggesting otherwise.'
'
There was no push back on Clinton's ridiculous conspiracy theories or use of weasel words.
The single greatest contributor to Clinton's downfall was not brought up: her strategy to elevate Donald Trump. We were not contacted to rebut.'