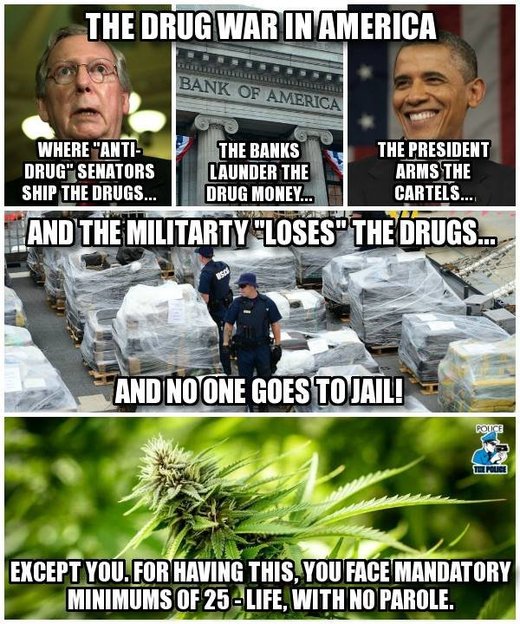 Though the justice system in the United States might continue to be represented by Lady Justice, whose blindfold and scales symbolize the fair and equitable application of law without prejudice, regardless of one's station in life, few could argue how that original intent has actually played out. With the blindfold long ago ripped off, Lady Justice metes out sentences based solely on power, privilege, and the size of one's wallet.
This is, of course, most clearly evident in the State's absurd War on Drugs — far more fittingly called a War on the People. A war in which, just as a recently
viral meme
describes, "anti-drug" politicians deal drugs, banks launder that illicit profit, the president supplies the cartels with badly needed weapons, and the military ineptly loses massive shipments of drugs — and all of this is carried out with complete impunity. However, if you are not an agent of the State and happen to be caught with one of the most medicinally beneficial plants on Earth in one of the State's arbitrary areas where possessing or using that plant remains a no-no, it's guaranteed you will not receive the same treatment.