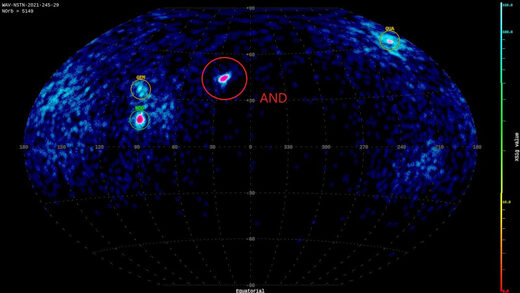 The Andromedids are back. Over the weekend astronomers reported an outburst of
more than 100 faint meteors per hour
. "[It was] the strongest outburst of Andromedid meteors ever detected by the Canadian Meteor Orbit Radar (
CMOR
)," says Peter Brown of the University of Western Ontario.
The shower's not over yet.
"The current outburst is ongoing and it may be another few days or even a week before the activity ramps down," says Brown. "These meteors are too faint to see with the naked eye
, but they are easy targets for our radar."
Andromedids
are debris from
Biela's Comet
, known to historians as "the comet that split in two." 3D/Biela started to fall apart not long after it was discovered in 1772. It was a double comet when it swung by Earth in 1852 and, after that, was never seen again. In 1872 and 1885, thousands of meteors shot out of the constellation Andromeda as Earth passed through Biela's remains. Chinese records described "stars that fell like rain."