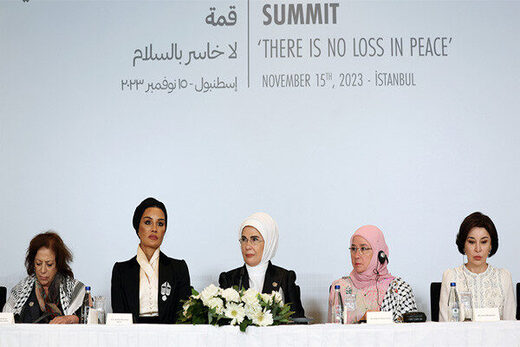 Tashkent, Uzbekistan (UzDaily.com)
-- In a gathering in Istanbul on 15 November 2023, the spouses of Heads of States and Government, along with representatives from various countries, convened at the "United for Peace in Palestine" Summit.
Turkiye's First Lady Emine Erdoğan hosted the summit titled
"One Heart for Palestine"
with the spouses of leaders in Istanbul.
Spouses and special representatives of state leaders from many countries, including Qatar, Malaysia, and Uzbekistan, conveyed a message to the world for the innocent people of Gaza.

Comment: Turkey has a population of 85+ million, Qatar close to three, Malaysia 33+ million, Uzbekistan 36+ million, in total, 157+ million!, or 1.9 percent of the world's publicly estimated population

By comparison, the UK has 67+, France 68+, Germany 84+, the US 334+.
Imagine, that the significant other of the leaders of the western countries got together for a good or bad cause, do you think you would have heard of it?


Their primary objective: to bring global attention to the humanitarian crisis in Gaza and call for an end to the tragic suffering of civilians, particularly vulnerable groups such as children, women, patients, and the disabled.
The summit aimed to advocate for a just and lasting peace and mobilize the international community to address what they assert may constitute war crimes.
"We are deeply concerned about the humanitarian tragedy in the Occupied Palestinian Territories, including Gaza and the West Bank, especially East Jerusalem, due to the war that has unfolded since October 7, 2023," the statement of the summit said.
A major focus of their statement was the blockade and embargo imposed on Gaza, which they deemed incompatible with international law.
They underscored that this blockade not only prevents civilians from accessing basic necessities but has also evolved into a severe violation of human rights.
The leaders' spouses did not shy away from highlighting the grim statistics, pointing out that the tragedy in Gaza since 7 October has resulted in the deaths of more than 11 thousand civilians, predominantly children and women.
They labeled this as one of the most serious violations of international law.
The urgency of the situation prompted a call for immediate action to ensure the safety of pregnant women, children, infants, and patients who find themselves in inhumane conditions and are at risk of massacre.
The summit attendees expressed a collective desire for a two-state solution, envisioning a future where both Israelis and Palestinians can raise their children in peace and security.
The summit's joint declaration outlined a series of calls to action,
urging the global community to intervene promptly:
1. Immediate and collective action to halt the ongoing massacres in Gaza.
2. An immediate cessation of Israeli attacks targeting civilian infrastructure, including schools, hospitals, medical facilities, refugee camps, United Nations facilities, and places of worship.
3. An urgent ceasefire to end hostilities, accompanied by the provision of unhindered, sufficient, and safe humanitarian assistance to civilians in Gaza.
4. A firm rejection of any attempts to forcibly displace the Palestinian civilian population, recognizing the severe impact of displacement, especially on women, children, and the elderly.
5. Immediate and full compliance by all parties with their obligations under international law.
As the international community grapples with this call to action, the "United for Peace in Palestine" Summit marks a collective plea for humanity and justice in the face of a dire humanitarian crisis.
Comment:
Another article about the same event:
'One Heart with Palestine' - Turkiye's First Lady Calls for Ending 'Era of Shame'
November 15, 2023, Anadolu Agency:

Turkish First Lady Emine Erdogan described what has been happening in Gaza for the last 40 days as "the era of shame."

Emine Erdogan hosted the summit "One Heart for Palestine" with other first spouses from around the world in the Turkish metropolis Istanbul as part of Ankara's efforts to end the ongoing Israeli war on Gaza.

In her opening speech at the summit, Erdogan warned Israel that through its actions in Gaza, it will be remembered along with "the cruelty that wanted to destroy the Jews," evoking the Holocaust.

She asked what is the difference between Hiroshima and Gaza, referring both to the volume of bombs dropped on the besieged enclave — the equivalent of two nuclear bombs, according to the Euro-Med Human Rights Monitor — and an Israeli Cabinet minister suggesting an atom bomb could be dropped on it.

Asking what "the global conscience" is waiting for to stop the missiles raining down on Gaza's children, Erdogan said: "As the above ground has been turned into a hell and the underground has been turned into a necropolis of children, it is never possible for any promised future to materialize there."

"Who can ever feel really safe in an order that has been built upon such a destruction?" she asked.

Addressing both Israel and the five permanent members of the UN, she said: "What critical threshold of death are you waiting for to stop this ferocity?"

40 Days of 'Shame'

She described what has been happening in Gaza for the last 40 days as "the era of shame."

"We will never surrender to this darkness that discriminates one life from another, that devalues everyone who is not like it," she underlined.

"For this reason, I invite the spouses of all heads of state to be the voice of those killed in Gaza and those whose voices are being suppressed and silenced while a mass slaughter continues," she added.

She reiterated the call for "cease-fire, peace, and humanitarian aid," adding that all the first spouses should unite their words for an immediate cease-fire: "What you see is not a war, it is the strong exploiting the weak."

This summit should be a concrete initiative taken for peace in Palestine, she stressed.

"We owe a future for Gazan youth that is suitable for human dignity other than either to kill or being killed," she indicated.

"That is why now is the time to establish the long-overdue peace promised by the two-state solution, which includes a fully independent Palestinian state with East Jerusalem as its capital and whose territorial integrity is preserved," she underscored.

"For the peace and tranquility of the region and even the world, the unjust occupation of Palestine (by Israel) must end and Israel must return the lands it seized to its owner, the Palestinians," she advised.

She added: "Gaza must be rebuilt from its ruins to offer a bright future for its children."

"A fund should now be established within international organizations such as the UN and the Organization of Islamic Cooperation to rebuild the schools, parks and hospitals destroyed by Israel," she suggested.

Mothers should kiss their children to sleep, not to their graves, she added.

- Anadolu Agency is Türkiye's global wire Agency with news production from over 100 nations across the globe. It publishes in real-time and in 13 languages. This story was contributed to The Palestine Chronicle.