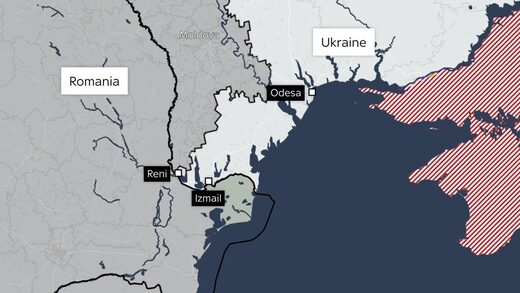 Ukraine said on Monday Russian drones had detonated on the territory of NATO member Romania
during an overnight
air strike
on a Ukrainian port across the Danube River
, but Bucharest denied its territory had been hit.
Reuters could not independently verify either account, a rare report of stray weapons from the war in Ukraine hitting a neighbouring member of the Western military alliance.
Moscow has conducted long-range air strikes on targets in Ukraine since the start of its invasion last year. Since July, when Moscow abandoned a deal that lifted a de facto Russian blockade of Ukraine's Black Sea ports, it
has repeatedly struck Ukrainian river ports that lie across the Danube from Romania
.
Russian
launched its air strike hours before President Vladimir Putin was due to discuss reviving the Black Sea deal with the deal's sponsor, Turkish President Tayyip Erdogan
.

Comment: Which explains why Ukraine would make such an allegation. This also further shows how it's Ukraine (likely on US orders), which is sabotaging the grain deal, as well as their attempts to rope in the surrounding countries into their failing proxy war.


"According to Ukraine's state border guard service, last night, during a massive Russian attack near the port of Izmail, Russian 'Shakheds' fell and detonated on the territory of Romania," foreign ministry spokesperson Oleg Nikolenko said, referring to Iranian-made drones.
"This is yet another confirmation that Russia's missile terror poses a huge threat not only to Ukraine's security, but also to the security of neighbouring countries, including NATO member states," he wrote on Facebook.
Nikolenko published a photo showing flames of an explosion visible from across a river. Reuters could not immediately verify
the vantage point of the image.
The Romanian Defence Ministry said Romania was not hit.
"The ministry of defence categorically denies
information from the public space regarding a so-called overnight situation during which Russian drones would have fallen in Romania's national territory," it said.
"At no time did Russia's means of attack generate direct military threats on Romanian national territory or waters."
Daniela Tanase, whose house in the Romanian village of Plauru overlooks Ukraine's Izmail port across the river, said she was not aware of explosions on the Romanian bank but could not say for certain.
"We heard the drones, the booms and the air defence systems across the river," she told Reuters by telephone. "We saw a light in the distance from our window, it was raining last night."
NATO has a collective defence commitment under which the military allian