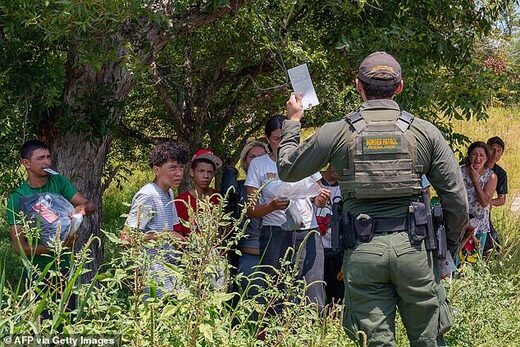 The FBI is searching for more than a dozen Uzbek nationals who claimed asylum at the southern border after evidence emerged they traveled with the help of an ISIS-linked human trafficker, according to a report.
Officials are still working to 'identify and assess' all of the individuals in the group who entered the US, National Security Council spokesman Adrienne Watson told
CNN
in a statement.
The FBI told DailyMail.com that no specific ISIS plot has been identified in connection with the group of foreign nationals, but that the bureau is investigating the possibility of any illegal activity or terrorism threats.
The group of migrants from Uzbekistan requested asylum at the border earlier this year, were screened by the Department of Homeland Security and released into the US pending a court date on their asylum claims after no red flags were raised.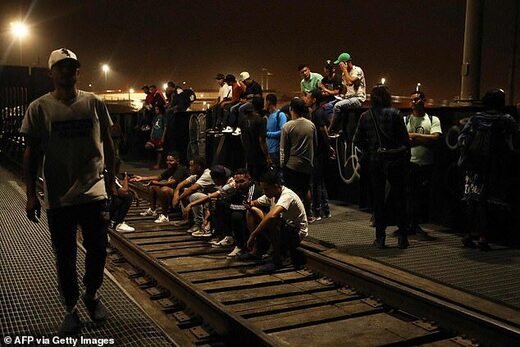 Alarm bells only went off later when the FBI later learned they had traveled with the help of a network that helps Uzbeks get to the US, and that the network included at least one person with ties to ISIS.
'Whenever we have indicators that criminal actors — such as those involved in human smuggling — have connections to terrorism, we work diligently with our partners to investigate and understand how foreign terrorist organizations may attempt to exploit their capabilities so that we can best mitigate any risk to the American public,' the FBI told DailyMail.com in a statement.
'While the FBI has not identified a specific terrorism plot associated with foreign nationals who recently entered the United States at the southern border, we always work with our field offices across the country, as well as our domestic and international partners, to identify any potential illegal activity or terrorism threats,' the bureau said.
A federal law enforcement official said the FBI is working with other intelligence and law enforcement agencies to investigate anyone with suspected terrorism ties who may pose a threat to Americans, 'regardless of how they arrive in the US.'
The incident involving the Uzbekistanis was so alarming that President Joe Biden's top Cabinet officials received an urgent classified intelligence report in their daily briefing books, according to the CNN report.
Some counterterrorism officials believe it illustrates the country's vulnerability to the possibility that terrorists could sneak across the southern border amid a huge surge of migrants seeking asylum.
The FBI is working to locate the migrants and investigate their background, and the US is working with Turkish officials, who arrested the human smuggler and other members of his network, the outlet reported.
Although two US officials told CNN they are closely scrutinizing a number of the migrants as possible criminal threats, there is no evidence at this point to justify detaining anyone.
'There was no indication — and remains no indication — that any of the individuals facilitated by this network have a connection to a foreign terrorist organization or are engaged in plotting a terrorist attack in the United States,' Watson told CNN.
In July, arrests for illegally crossing the US border from Mexico soared 33 percent from the prior month,
reversing course after a plunge that followed the introduction of new asylum rules in May.
Biden's administration has expanded legal routes for claiming asylum, including through a government mobile app, while imposing more punitive measures on those who enter illegally.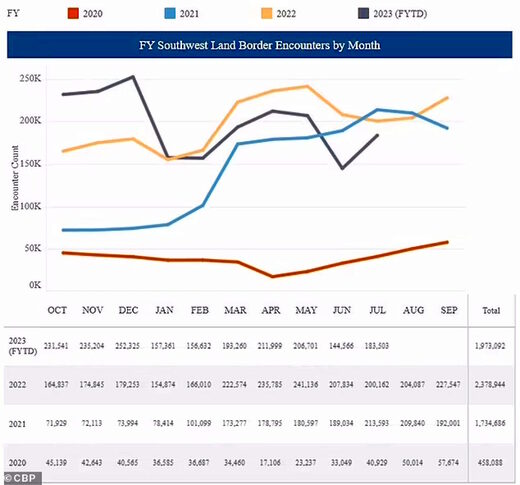 The Border Patrol stopped migrants 132,652 times in July along the southern border, up from 99,545 in June but down from 181,834 times in July 2022.
The increase from June to July was driven by a larger presence of families traveling with children - nearly doubling to 60,161 arrests.
Crossings were widely expected to increase after pandemic-related asylum restrictions ended May 11 but they fell in June to the second-lowest of Biden's presidency, after new rules that make it extremely difficult to get asylum when crossing the border illegally.
The latest numbers also reflect a sharp increase in the use of the government's CBP One mobile app through which up to 1,450 migrants can day get appointments at land crossings with Mexico to seek asylum.
During July, authorities admitted more than 50,000 migrants at official crossings,
a 12 percent increase from June,
including more than 44,700 with CBP One appointments.