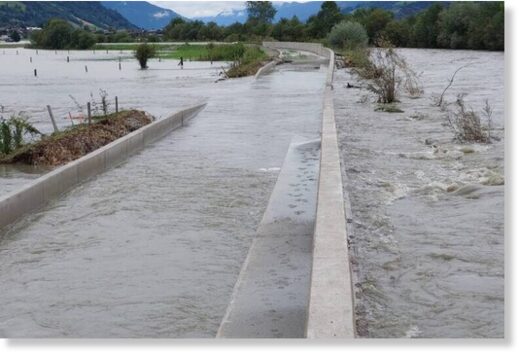 Just a few weeks after heavy rain caused devastating floods in the southern Austrian provinces of Carinthia and Styria, extreme weather is causing major problems once again.
Experts at Geosphere Austria (formerly the ZAMG) issued a rain and thunderstorm warning for several regions across the country on Monday.
In a tweet they said "large amounts of rain" was forecast in the west and south until Tuesday, and warned that "more mudslides and floods" are to be expected.
The regions of Vorarlberg and Tyrol were most affected.
In Tyrol, the districts of Imst, and the Ötztal valley, as well as the district of Innsbruck-Land were mainly affected around Monday lunchtime due to flooding. According to Geosphere, the situation on the main ridge of the Alps remained precarious in the afternoon, and possible thunderstorms could exacerbate the situation.
The focus was set to shift towards the Zillertal Alps and the East Tyrolean Tauern mountain range over the course of the afternoon. In East Tyrol, there were worries over increased water levels in the upper part of the Isel river. Thunderstorms could further increase the intensity of rain.
The situation in the Ötztal valley seemed particularly precarious, with rivers overflowing.
In the Ried district of Tumpen, 30 households with about 70 people had to be evacuated. They were accommodated in the local club and fire station. In the well-known winter sports resort of Sölden in the rear of the Ötztal valley, all bridges were closed as a precaution.
Other valleys in the Tyrol were also affected. In Jerzens in the Pitztal valley, three houses were evacuated. Authorities said there were issues with power supply in some regions.
The persistent rain also led to road and railway closures. The Brenner railway line was closed due to a mudslide between Steinach in Tyrol and Brenner.
The Ötztal road (B186) between Längenfeld and Sölden was also closed.
Flood protection measures were also taken in Innsbruck.