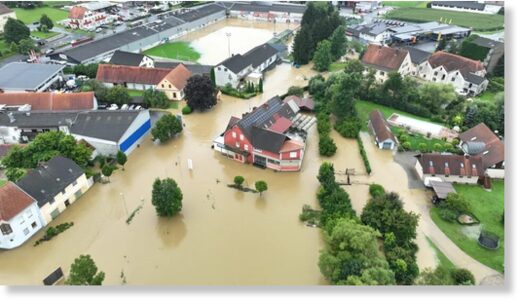 Torrential rains and heavy floods have ravaged southern Austria for the past three days, killing one person who was swept away by a quickly swelling river on Sunday, officials said.
After the person fell into the river, firefighters, divers and water rescuers immediately began rescue operations, according to the press department of the Carinthia province. But rescuers were only able to recover the dead body.
Austrian chancellor Karl Nehammer expressed condolences on X, the social media platform formerly known as Twitter, saying that "our thoughts are with the relatives" of the person killed.
Since Friday, the southern Austrian provinces of Carinthia and Styria have been heavily affected by torrential rains, mudslides and rising rivers, with water surging into buildings. Several villages have been evacuated.
Army soldiers are helping emergency personnel in the recovery effort. They are pumping water, evacuating civilians and setting up emergency shelters. In total, 2.500 firefighters were on duty in Carinthia and another 2.500 in Styria, the Austria Press Agency reported.
Late Sunday night, a small village in the southern province of Styria was hit by a large mudslide that moved or buried half of its buildings, local media reported.
Nehammer on Saturday announced that the Austrian government will release money from its disaster relief fund to support people in the affected regions.
On Sunday, weather conditions slowly began to calm down, but water kept flowing with the danger of mudslides remaining high.
Extreme weather and flooding has also affected neighboring Slovenia. Prime Minister Robert Golob described it as a "record flood" that could be the biggest since Slovenia became independent in 1991.
Source: Associated Press