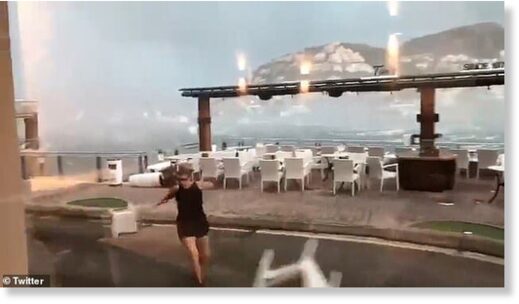 The island of Majorca is battling with extreme storms as hurricane-force winds of more than 75mph and torrential rain batter the popular holiday resort.
Stunned holidaymakers have shared footage of tourists running for shelter as sun loungers were sent flying across swimming pools and beaches on the Spanish island which is usually associated with blistering heat and glorious sunshine in August.
A 'small number' of people are also being treated for 'minor injuries' after a P&O cruise ship broke free from moorings and collided with a freight vessel during the storm.
Hotel resorts have been left unrecognisable after being lashed by fierce winds, rain and hail. Local media reports that there were more than 80 flood-related incidents on the island within an hour this morning.
Terrified Brits have told MailOnline that they 'don't dare go out' as savage winds pummeled the island and left hotel guests unable to go outside out of fear of being injured. Families also described their young children being 'frightened' of the lightning, while others said they had 'never seen so much rain in one day'.
Palm trees have come crashing down and flying debris has been launched across resorts, while motorists were also struggling to navigate through flooded roads and poor visibility. Forecasters have warned that storms show no sign of stopping tonight.
It comes as severe warnings were issued across the holiday hotspots of Majorca, Ibiza, Menorca and Formentera on Sunday. More than 100 flights were cancelled or diverted at Palma, Ibiza and Menorca due to strong winds and rain.
Spanish forecasters said winds reached more than 75mph at the Capdepera lighthouse in Majorca.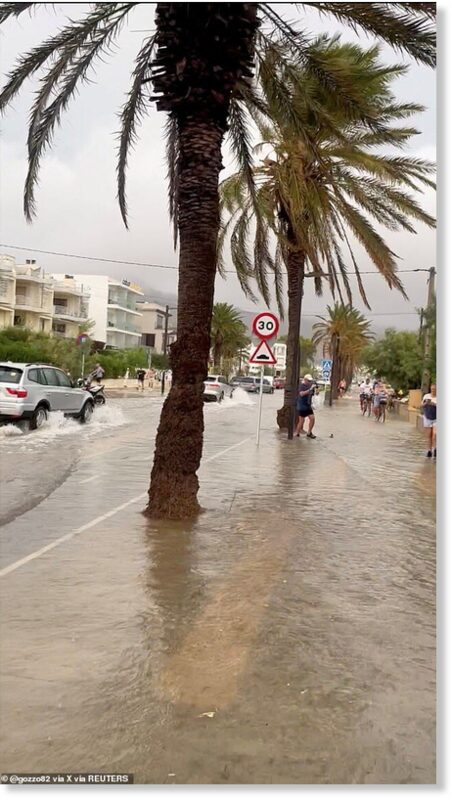 Mark Williams, who is staying at a hotel with his daughter in Can Picafort on the island, told MailOnline he was concerned about getting home to Manchester tomorrow.
'We've been here seven days and it's been good weather but it hit this morning. It's been constant storms. You don't dare go out. We're on a flight tomorrow and hoping it isn't delayed to Manchester.'
He said that the hotel has become extremely busy as no one can get out but the pool has turned brown from the mud and been filled with debris.
Mr Williams continued: 'We had a blue swimming pool yesterday and now it's just mud. It's full of needles from all the palm trees. Everything's gone into the pool so I'm not sure how they going to deal with that. I just feel so sorry for the kids that can't go in. They're just going out to look at the pool and thinking 'we can't go in there'.'
Another woman told MailOnline how her daughter, who is a First Responder, had to assist a man who sustained a 'nasty head injury that required stitches'. Janet, whose granddaughter is also on the holiday, added: '[I'm] very thankful my granddaughter has managed to get inside as she could have been very seriously injured by all the furniture being blown around.
'They are all safe but pretty shocked by the whole episode.'
Cara Catlin, from Luton, described being trapped in a supermarket when the storms started and 'no one would leave'. 'When we got back to the beach you could see loungers had gone flying,' she added.
Ms Catlin, who is on holiday with her husband, their six-month-old baby and seven-year-old girl, said she was expecting 40C heat but the holiday has been 'overshadowed' as they had to 'wade through knee high water'.
She said her children are 'just getting wet and upset that they can't get in the pool'. She added: 'I understand why it's closed because they could be struck by lightning but the kids are frustrated at not being able to use it.'
Alex Bigham, who is staying in a villa outside Sa Pobla, Majorca, said the power kept cutting out and the thunder was so loud it was frightening his five-year-old daughter. He told MailOnline: 'It was quite a dramatic day. We're ok but we were about to go shopping in the local town Sa Pobla when the storm came in.
'I've never seen such torrential rain to be honest since the storms in the UK back in 1987 when I was just five myself. We were in our car but the rain was so torrential you couldn't see more than a few metres.
'We had to take shelter in a local supermarket. Our daughter was pretty frightened by the thunder, it was very loud and seemed quite close to our villa.'