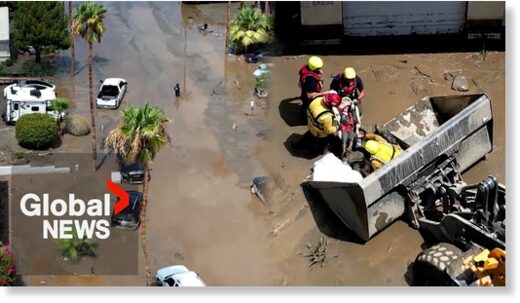 Video taken by a drone shows the extent of damage from flash flooding in Palm Springs and Cathedral City after Tropical Storm Hilary swept through southern California, the first tropical storm to hit the area in 84 years.
So far no deaths, serious injuries or extreme damage has been reported in California though officials warn that risks remain, especially in the mountainous regions where wet hillsides could unleash mudslides.
Rescue officials in Cathedral City, drove bulldozers through the mud-swamped streets to rescue residents trapped by the floodwaters.
Some 46 rescues were performed in the city between late Sunday night and Monday afternoon as
mud and water reached up to 1.5 metres in some areas.
For more info, please go to
https://globalnews.ca/news/9909049/tr...