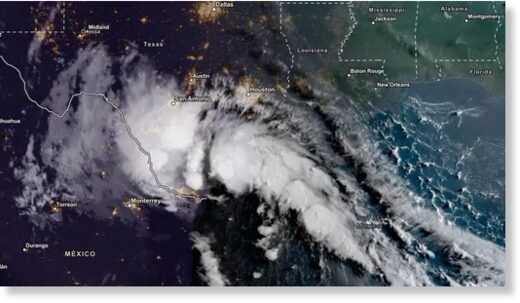 Tropical Storm Harold made landfall on the south-east coast of Texas on Tuesday, bringing more heavy rain and high winds to the southern US.
The storm has dumped up to 7in (17.7cm) of rain in some parts of the state.
By late Tuesday afternoon, the storm had been downgraded to a tropical depression, but heavy rains continued.
More than 23,000 people were without power in the Lone Star state on Tuesday night.
The Texas deluge arrived a day after historic amounts of rain flooded parts of the south-western US.
California and Nevada were cleaning up on Tuesday after seeing historic amounts of rain from Storm Hilary, which caused widespread flooding.
Tropical Storm Harold made landfall on Tuesday morning local time on Texas' Padre Island in the Gulf of Mexico.
Tropical storm warnings had been issued from the Rio Grande river - along the state's southern boundary - to roughly 250 miles (400km) north, to the community of Port O'Connor.
Scattered instances of flash flooding were still a threat, the NWS warned.
Texas Governor Greg Abbott said the state had deployed emergency resources including rescue boats, search-and-rescue teams and platoons from the state National Guard.
Wind gusts of 59 mph were reported outside of Corpus Christi.
The storm was expected to continue to carry rain, wind and hail farther inland as it tracks westward across the hot and dry Texas landscape.
Rain was expected to taper off on Wednesday.
As Texans endure the deluge, weather officials have warned of yet another tropical storm - Franklin - currently some 230 miles east off the coast of the Dominican Republican.
Up to 6in of rain from Franklin is predicted to fall in Puerto Rico from Wednesday.