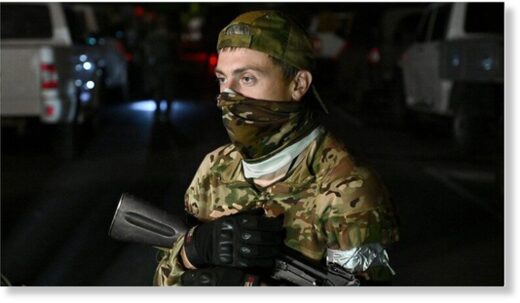 Russia has blocked access to several news websites linked to businessman Evgeny Prigozhin, whose private military company, Wagner Group, was involved in a short-lived mutiny last week.
Public access to riafan.ru and four other websites operating under the umbrella of the Patriot Media Group has been restricted, according to the database run by the regulator Roskomnadzor (RKN). The group's website has also been blacklisted.
The websites mostly focus on covering Russia's standoff with the West and Moscow's military operation in Ukraine.
News agency TASS cited employees of the affected outlets as saying that their parent company would be closed and all of its subsidiaries cease operations.
Prigozhin, who initially made his fortune as a restaurateur and catering tycoon, was listed as the head of the Patriot Media Group's board of trustees until May.
Earlier, the RKN ordered popular Russian social media platform VK to take down web pages associated with Wagner to "prevent the spread of calls to armed rebellion."
On June 23, Prigozhin, who accused the Defense Ministry of mishandling the operation in Ukraine, declared a 'march for justice' on Moscow.
His fighters halted their advance on Saturday evening and returned to their bases after a deal was struck with the authorities. Charges of leading an armed rebellion were dropped as part of the arrangement, and Wagner members were given a choice to sign contracts with the Russian military, return to civilian life, or move to Belarus.