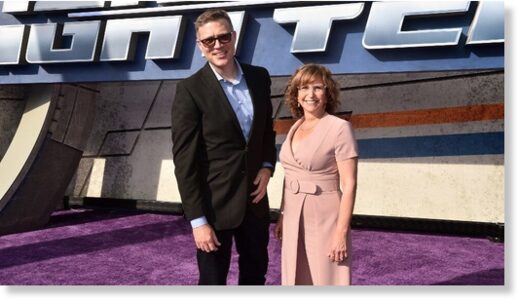 Disney's Pixar Animation Studios has
slashed 75 jobs, including the top crew members of 2022's 'Lightyear'
, which was blocked from release in 17 countries because of its depiction of a homosexual kiss and ridiculed by conservatives in the West.
'Lightyear'
director Angus MacLane and producer Galyn Susman were let go late last month
, Reuters reported on Saturday. While MacLane was a relative newcomer to the studio,
Susman had been at Pixar since the original 'Toy Story' movie in 1995
. Including the two executives, a total of 75 positions were axed at Pixar.
Released last June, 'Lightyear' cost $200 million to produce, but
only managed to pull in $226 million
in worldwide ticket sales. Its depiction of a homosexual relationship between two female characters saw it banned in 16 Muslim countries and in China.
These bans reportedly cost Disney $100 million in potential profits.
While the homosexual scene was initially cut from the movie several months before release,
Disney's then-CEO Bob Chapek insisted that it be reinserted
in response to Florida's Parental Rights in Education Bill. This legislation, signed into law by Governor Ron DeSantis last March, prohibits teachers in Florida from discussing sexuality and gender identity with children in kindergarten through third grade.
Conservative pundits hammered Disney for pushing a "woke" message onto an unreceptive audience and critics called the movie "
pedestrian
" and "
frustratingly slow
," but
Chapek doubled down and insisted that Disney's content would continue to "reflect the rich, diverse world that we live in."

Comment: I.e. the deranged sexual-fantasy world a minority of perverts and pedophiles live in. Sorry, but the majority of humanity lives in a different world, and would prefer you keep your sexuality and kink to yourselves, and not expose their children to it.


Disney's 'Strange World', an animated movie which
also featured a gay main character and ends in a warning about climate change
, bombed last year too, losing at least $60 million at the box office.
Disney lost $100 billion in market value under the stewardship of Chapek, who was fired in October
and replaced by former CEO Bob Iger. Back in charge after less than a year in retirement, Iger announced in February that Disney would lay of 7,000 workers as part of a plan to cut $5.5 billion in costs.
Three waves of layoffs followed, with MacLane and Susman axed in the final round in May.