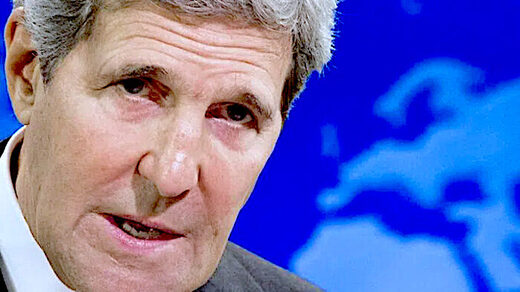 Biden's Special Presidential Envoy for Climate, former Senator John Kerry, has declared that it's time to follow in the Netherland's footsteps and make U.S. farmers go extinct
in order to save the planet.
"A lot of people have no clue that agriculture contributes about 33 percent of all the emissions of the world," Kerry declared earlier this month.
"Depending a little bit on how you count it, but it's anywhere from 26 to 33. And we can't get to net zero, we don't get this job done, unless agriculture is front and center as part of the solution. So all of us understand here. The depths of this mission."
Kerry insists that America must follow the WEF blueprint for eradicating farming to meet the "green agenda" goals laid out by the globalist elites.
Kerry claims that the agriculture sector "needs innovation now more than ever. We're facing record malnutrition, at a time when agriculture more than any other sector is suffering from the impacts of the climate crisis."
This is the same Kerry, who in 2021 hysterically warned that humanity only had "
nine years left
" to avoid a cataclysmic event brought on by climate change.
"And I refuse to call it climate change anymore. It's not change; it's a crisis. We're beyond the concept of 'just change and we can manage the change.' And without action, millions of lives and livelihoods are going to be at risk.

"There are scientists will tell you today that the probability of a large portion of Africa that is a huge food supplier to the continent could implode in terms of its agricultural capacity, if we don't get control of what we're doing.

"15 million people are dying every single year around this planet as a consequence of greenhouse gas emissions. In the atmosphere in the air, which travels around at drops in the form of pollution, and is warming the ocean at record rates changing the chemistry of the ocean itself.

"Without action, millions of lives and livelihood of the planet is in parts of the world climate crisis has now got growth in agricultural yields but as much as 40 percent. And at the same time food systems themselves contribute significant amount of emissions just in the way in which we do the things we've been doing."
Thepostmillennial.com
reports: Kerry made the remarks at the Agriculture Innovation Mission for Climate, hosted by the US Department of Agriculture, and they were in service to further the goals of the United Nations Climate Change Conference, or COP28, coming up in November.
That conference, he said, has been "grappling with how we change that dynamic and what we do."

"But emissions from the food system alone are projected to cause another half a degree of warming by mid-century on the current course that we are today. And instead of being on a course to be able to hold the diverse temperature increased to 1.5 degrees, we're actually on a course to hit around three degrees right now. And I say that to you folks coming from some who've done analysis within the oil and gas industry itself, who have come to that conclusion based on their modeling. So that's not some, you know, fly by night operation that is suggesting that that may be where we're headed, now.

"A two degree future could result in an additional 600 million people not getting enough to eat and you just can't continue to both warm the planet while also expecting defeat it doesn't work. And as it's so often the case with respect to the climate crisis, we have to fight on multiple fronts simultaneously."
Kerry was joined by agriculture ministers from governments across the globe who all came together to encourage farmers to reshape food production to reduce emissions, which he called a "battle." He urged US lawmakers to heed the warnings and legislate for changes in the way food is produced to prioritize climate concerns now, and not to put it off.
Kerry spoke of a meeting in Glasgow during which it was decided to "supercharge investment into climate smart agriculture, into innovation." At that meeting,
funding was increased
for co-called Climate Smart Agriculture Innovation.
AIM for Climate
is an initiative that "seeks to address climate change and global hunger by
uniting participants to significantly increase investment
in, and other support for, climate-smart agriculture and food systems innovation over five years."
As the effort seeks to transform food production globally, they also insist that
"Diversity, gender equity, and inclusion are critical to the success of the mission."
Much of the language surrounding these plans are aspirational, with terms like "innovation" and "transformation" sprinkled in. Goals include "insight sharing, innovation collaboration, coordination, demonstration and deployment," in service to lowering the emissions that come from agriculture.
Those who are designated
"
knowledge partners
"
with the project are meant to "Share best practices to increase the equitable diffusion of - and positive returns to - agricultural innovation efforts focused on adapting to and mitigating the effects of climate change."
Further, they are asked to "Launch flexible, inclusive, and targeted innovation collaboration focused on specific innovation areas, guided by the values of openness, transparency, reciprocity, and merit-based competition."
Additional asks include that the partners "Collaborate to increase mutual and equitable capacity for agricultural innovation focused on climate change, including efforts to enhance the efficacy and resourcing of existing innovation institutions."
April saw
Biden
pledge
to "tackle the climate crisis and keep a 1.5°C limit on warming within reach," and to reduce emissions by 50 to 52 percent by 2030.
He pledged "$1 billion to the Green Climate Fund and requesting $500 million for the Amazon Fund and related activities."
Biden's plans
are to
decarbonize energy
and promised to meet a zero-emission goal for vehicles by 2030, along with the "decarbonizing" of international shipping. Biden also set about "Launching a Methane Finance Sprint to cut methane emissions and accelerating hydrofluorocarbon (HFC) phasedown under the Kigali Amendment." He touted the Inflation Reduction Act as "the largest U.S. investment ever in reducing U.S. emissions, accelerating the clean energy economy, and protecting communities from climate impacts. President Biden has set an ambitious U.S. goal of achieving a carbon pollution-free power sector by 2035 and net zero emissions economy by no later than 2050," the White House said.
Biden also addressed the need
to reduce methane, and agriculture is the largest source of that gas. "In addition to cutting CO
2
, rapid reductions of other GHG emissions are essential to keep 1.5 °C within reach. Methane and other non-CO
2
GHGs are potent climate pollutants with short atmospheric lifetimes. Rapidly reducing them would have an outsized impact on near-term warming," the White House said.
The goal, the White House claimed, backed up at the AIM conference by Kerry, is to enact the "goal of cutting anthropogenic methane emissions at least 30 percent by 2030. More than 50 countries have developed, or are developing, national methane action plans, and many new projects are underway to drive methane reductions in the key sectors of fossil energy, waste, and agriculture and food."
In Canada, the
Trudeau government has made a plan
to reduce emissions from agriculture, of which the sector contributed 10 percent to the nations CHG emissions in 2019, by telling farmers to reduce their use of nitrogen fertilizer. A
group
representing Canadian fertilizer companies said that "Canadian farmers are already among the most sustainable growers in the world, they have less room to lower fertilizer emissions without compromising food production than those in other countries. As there are only eight growing seasons until 2030." That group encouraged an approach that would prioritize farmers and food supply.
The Netherlands launched a plan
to reduce emissions from agriculture by
buying and closing farms
, and
restricting
the use of nitrogen fertilizer. The European Union had demanded that the country reduce emissions.
During his talk,
Kerry thanked his "buddy" Tom Vilsack, Secretary of Agriculture,
who also pioneered plans to
prioritize federal agriculture loans based on race and moved to withdraw school lunch funding from school districts that didn't allow male students to use girls' bathrooms and locker rooms
.
Vilsak defended his race-based approach to funding farmers by saying, essentially, that
discriminating against white farmers in the present is a way to correct discrimination against black farmers in the past.
A court disagreed.
Members of the Congressional GOP
urged
Vilsack to "denounce Kerry's remarks," saying in a letter:
These comments are a blatant slap in the face to the hardworking individuals that spend their lives sustainably producing our world's food, fuel, and fiber. Although the world agriculture industry accounts for 22 percent of global GHG emissions, Kerry's alarmist narrative does not tell the full story of American agriculture.

American farmers and ranchers are committed to being stewards of the land. We are appalled by the comments made by [Kerry] and ask that your administration recognize the responsible efforts agriculture producers make every day to feed, clothe and fuel the world. Farmers and ranchers are the lifeblood to our food security, and a nation that cannot feed itself would not be a nation at all.