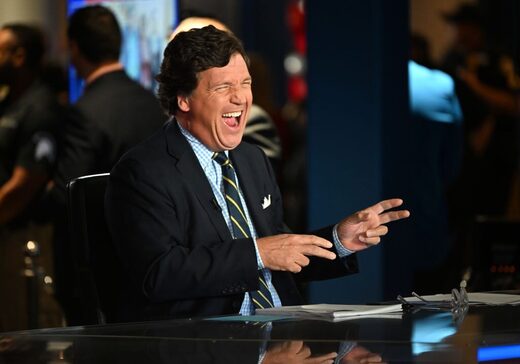 An analysis of primetime ratings shows that Fox News has seen
an approximate decline of 1 million total viewers
on average for its primetime lineup after the departure of Tucker Carlson in late April.
In the four weeks before Carlson left the network, Fox News' primetime hours averaged some
2.6 million
total viewers. But in the four weeks after his departure,
those hours are down to just 1.6 million viewers,
a decline in 39 percent, according to an
analysis
from Mediaite.
The 8 p.m. hour that Carlson used to have also declined significantly, according to ratings.
Carlson had averaged some 3.2 million viewers in the weeks before he left
, but the replacement show — "Fox News Tonight" — is down to 1.49 million viewers on average.
When announcing Carlson's exit, Fox News signaled that the new program would be temporary and would include a rotating cast of hosts. Brian Kilmeade, Lawrence Jones, Will Cain, Kayleigh McEnany, and former Rep. Trey Gowdy (R-S.C.) have hosted the 8 p.m. show in the meantime.
Fox News Tonight
saw a bump in ratings on May 23 after Florida Gov. Ron DeSantis appeared on the show and gave an interview with Gowdy, coming after the Republican governor announced his 2024 presidential bid. That interview saw about 1.96 million viewers and also drew 186,000 in the key 25-54 advertising demographic, according to Nielsen ratings.
Just minutes before, DeSantis appeared in a Twitter event alongside CEO Elon Musk
, where he announced his White House run. It came after months of speculation about the Florida Republican's presidential aspirations.
Despite the drop in the primetime viewership since Carlson's departure,
data shows that Fox News is still the No. 1 cable news channel in terms of overall ratings.
And the latest
ratings
for Fox News, released on May 24, show that
The Five
was the No. 1 show, generating 2.4 million viewers. However, none of Fox News' other shows — or other shows on other cable news channels — for that day eclipsed the 2 million mark.
Earlier this month, a Fox News spokesperson responded to the Carlson-linked drop in primetime ratings, saying that the network is still the No. 1 cable news channel.
"For more than 21 years, Fox News Channel has been cable news' most-watched network in all categories with more Democrats, Independents, and Republicans now tuning in than either CNN or MSNBC," Fox News said at the time. "Attracting more than 50 percent of the cable news-viewing audience with the top 12 programs in cable news, Fox News' powerhouse team of journalists, analysts, and opinion hosts are trusted more by viewers than any other news source."
About two weeks ago, rumors surfaced that Fox News would alter its primetime lineup and would move Sean Hannity to the 8 p.m. timeslot. A spokesperson for Fox at the time told
The Epoch Times
that no decision has been made on its primetime programming schedule,
while the network also refuted what it described as left-wing claims that host Laura Ingraham would be booted from the network.
"Reports based on various tweets by left wing activists are wildly inaccurate. Laura Ingraham, the top-rated woman in cable news, is now and will continue to be a prominent host and integral part of the FOX News lineup," the spokesperson said.
Read more here...