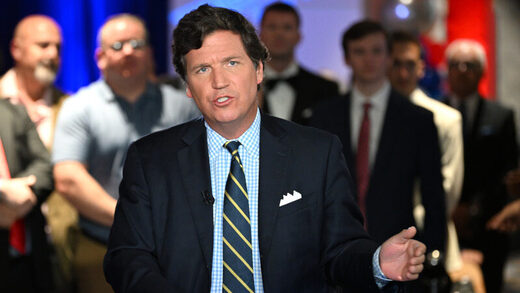 Tucker Carlson's Woodstock, Maine recording studio, where the former Fox host broadcast his show during the summer, was reportedly left in shambles by Fox News personnel right as he was poised to bring his content to Twitter, according to a Wednesday report.
According to
The Daily Mail
, the studio, a converted barn, must now be largely rebuilt. Patrick Feeney, the man managing the project for Carlson, told reporters,
"Fox came in last week and got all their sh*t out of there."
"They took the set and everything, all the equipment, the chairs, the desk, the fake walls," he added.
Carlson reportedly has crews working to shore up the studio, repairing infrastructure, and readying the building to be re-outfitted with the necessary technology and sets.
"There's no hardware in place at all," Feeney told
Daily Mail
. "There's not even an infrastructure for a TV studio for a long time."
He explained that his employer largely spends the year in Florida, having recently returned to the Maine town where he owns a home on a nearby lake. "He just got back late last night after meeting with lawyers and all that stuff. As you can imagine, he's very, very busy right now."
Carlson promised that his iconic show would be returning on the Twitter platform during a record-shattering video announcement of barely three minutes, timed to coincide with his former timeslot, which ratings-wise clobbered his former network. As of this report it has been viewed over 132 million times.
During the announcement, he told his audience, "Starting soon we'll be bringing a new version of the show we've been doing for the last six and a half years to Twitter."
According to
The Mail
, a three-man team was seen working at the studio Thursday with Feeney explaining that while a new show may be in the offing, there is no set date for launch as of yet.
"We just came to clean it up and get it looking like something again," Feeney told the outlet. "There's no imminent venture. We're just getting ready in case something does happen."
"There's nothing we're doing other than cleaning the place up, shoring up the walls, making it look good again," Feeney concluded per
The Mail
.
During his May 9th announcement, Carlson told his audience, "The best you can hope for in the news business at this point is the freedom to tell the fullest truth that you can. But there are always limits and you know that if you bump up against those limits often enough, you will be fired for it," Carlson said. "That's not a guess, that's a guarantee."
"You can't have a free society if people are not allowed to say what they think is true," the former Fox host said. "Speech is the fundamental prerequisite for democracy. That's why it is enshrined in the first of our Constitutional amendments."