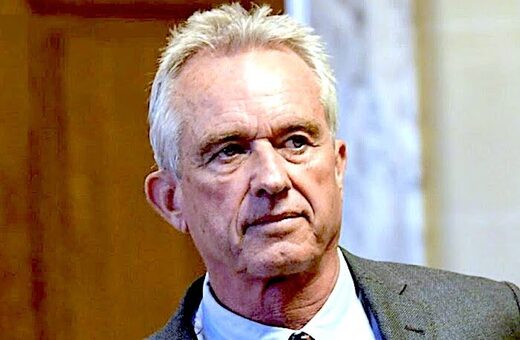 If the shocking 2016 presidential election of Donald J. Trump taught us anything, it should be that voters can still be unpredictable and unpollable, and that millions of them believe that
the entrenched elites from both political parties no longer hear their voices or speak for them.
Voters are continually seeking a new champion.
Will Robert F. Kennedy, Jr. become such a champion? I believe so — at least as far as the Democratic primary process is concerned.
When that process is final and all the votes from the primaries and caucuses have been tabulated, I believe Kennedy will emerge as the Democratic nominee for president in 2024.
Cue the laughter and pejoratives. Most from the left. Some from the right. In our increasingly polarized times,
everything seems to be viewed through the prisms of ideology, tribalism, anger, hate and the outright dismissal of voices in opposition to our own.
But if we choose to put down those often-distorted prisms and open our eyes,
there are still facts, figures and pragmatic reasons
as to why the less obvious (or the most ridiculed) might still be the correct answer.
My first reason for predicting a Kennedy nomination is that I am still not convinced President Joe Biden will actually run for reelection, primarily because of concerns regarding his advanced age and the perception of cognitive decline.
With regard to Biden's age being a roadblock to a 2024 campaign, we have this from former Democratic nominee Hillary Clinton,
who was asked
about it at the
Financial Times
Weekend Festival:
"His age is an issue. And people have every right to consider it."
In a
Quinnipiac poll
out this week,
65 percent of voters
said they think Biden, 80, is too old for a second term. That's a share that could very well continue to rise.
But for the moment, Biden has declared his intention to run for reelection. And therein lies reason number two why I believe Kennedy will be the eventual nominee.
The longer Biden stays in the race, the more he hurts the chances of undeclared Democratic contenders such as Vice President Kamala Harris, California Gov. Gavin Newsom, Secretary of Transportation Pete Buttigieg or even former First Lady Michelle Obama.

Comment: These are pretenders, not contenders. They have no substance.


As Biden lets other potential candidates twist in the wind,
Kennedy continues to crisscross the nation taking almost every media opportunity given to him
— even and especially those on the right, such as Fox News and the
New York Post.
Of course, one of the reasons Kennedy is appearing on conservative outlets is because many in the now-activist mainstream media
refuse to give him a platform.
Back in 1975 and 1976, when former Georgia Gov. Jimmy Carter ran his longshot campaign for the White House, some in the media also refused to give him a platform. But they did so because they ignorantly dismissed his campaign as a joke, not because they were personally or ideologically opposed to his policies.
Today, many in the media refuse to have Kennedy on because they are outraged that he dared to question the lockdowns, masking and vaccine mandates that came in the wake of the COVID-19 virus. Additionally, I believe
many of them are simply running interference for the Biden White House.
But again, there is a real danger in viewing the political process with ideological blinders permanently attached to your face.
Supreme Court Justice Neil Gorsuch
recently used a statement in a lawsuit over the Title 42 public health order to give
a scathing overview of how civil liberties were trampled during the COVID era.
Justice Gorsuch wrote:
"The U.S. may have experienced the greatest intrusions on civil liberties in the peacetime history of this country....Executive officials across the country issued emergency decrees on a breathtaking scale. Governors and local leaders imposed lockdown orders forcing people to remain in their homes. They shuttered businesses and schools, public and private. They closed churches even as they allowed casinos and other favored businesses to carry on. They threatened violators not just with civil penalties but with criminal sanctions too."
Many on the left now condemning Kennedy as an "anti-vaxxer" might have no problem with these draconian actions. But guess what?
Tens of millions of Americans did and still do.
These Americans are going to be very open to hearing Kennedy's voice as he barnstorms the nation in the face of a liberal media blackout.
The next reason why I believe Kennedy will prevail is that
he is far from the "one issue" candidate
some in the media believe him to be.
He is speaking to multiple issues a majority of voters want addressed
— issues which have been upending their quality of life for years.
Kennedy's "ace in the hole" may very well be his simplified campaign message: "Tell the truth."
He pledges to roll up his sleeves much like his dad did in the 1960s and engage in honest conversations with the people.
Next, because of the Kennedy name coupled with his own stated values,
RFK Jr. will make tremendous inroads with Black, Hispanic and disenfranchised voters
— a large part of the Democratic base.
After Kennedy met with the editorial board of the
New York Post,
the editors
wrote
:
"Kennedy has real conviction and charisma, and he's fiercely independent of many of the party's reigning pieties — all of which should appeal."
His message should most especially appeal, considering the latest
Monmouth University poll
declaring that
only 16 percent of respondents said the U.S. is headed in the right direction.
Sixteen percent.
The headline for that
Post
editorial read:
"Biden's a fool to ignore the RFK Jr. challenge." To that list of "fools" I would add the activist media and the Democratic Party.
Despise him all you want, but Kennedy is already polling at 20 percent against Biden as his pragmatic voice continues to reach more and more Americans in search of a champion.
About the Author:
Douglas MacKinnon, a political and communications consultant, was a writer in the White House for Presidents Ronald Reagan and George H.W. Bush, and former special assistant for policy and communications at the Pentagon during the last three years of the Bush administration.