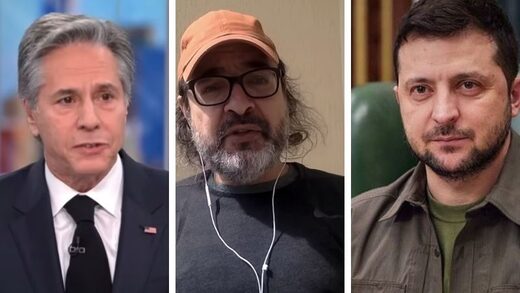 A United States citizen has been arrested in Ukraine for allegedly expressing strong criticism against the
government's war with Russia
and the
Biden administration
said on Monday that they will not comment on the matter.
Gonzalo Lira
, a writer and YouTuber who has been an outspoken critic of Ukrainian President Volodymyr Zelensky, was arrested earlier this month for publicly justifying Russia's invasion of Ukraine, according to a
press release
from Ukrainian Security Service of Ukraine (SBU), Becker News
reports
.
"The security service gathered an evidence base on a foreign blogger who publicly justified the armed aggression of the RF [Russian Federation] and spread fakes about the war in Ukraine," the SBU claimed. "The figure is a citizen of one of the Latin American countries, but has lived in Kharkiv for several years."
"After the full-scale invasion, the blogger was one of the first to support Russian invaders and heroize their war crimes," the release continued. "He also discredited the top military-political leadership and the Defense Forces of our state."
The SBU claimed that Lira "shot provocative videos in which he tried to capture the faces of Ukrainian defenders and insulted them" and then uploaded "its stream on two channels of its own in Jutub and Telegram with a total audience of almost 300,000 subscribers."
After reportedly seizing "mobile phones and a computer with evidence of illegal activity," Ukrainian authorities "confirmed the criminal actions of a foreign blogger," per the release.
While the Ukrainian government initially believed Lira was a citizen of a nation in Latin America, authorities later determined that he is a United States citizen from the state of California, according to Becker News.
The Ukrainian government has charged Lira with violating sections 2 and 3 of Article 436-2 of Ukraine's criminal code, which prohibits portraying the military conflict in Ukraine as an "internal civil conflict," the outlet reports. If convicted, Lira faces up to 13 years in prison.
The Biden administration refused to comment on the matter during a Monday press brief when reporters questioned the State Department if they were in discussions with the Ukrainian government to negotiate the release of Lira.
Mathew Miller, a spokesman for the State Department, told reporters that the Biden administration "was aware of the report" but declined to comment any further.
Liam Cosgrove, a reporter for the Epoch Times, asked Miller during the press brief, "Are you guys aware of this? How do we feel about our allies detaining US citizens for free speech abroad?"
Miller replied, "I will say in general that we're aware of the report, we obviously support the exercise of freedom of speech anywhere in the world, and I'll leave it at that."
"So you guys aren't working to get him released?" Cosgrove shot back.
"I'm gonna leave my comments where I where I just left them," Miller said in response.
The Biden administration has sent
$115 billion to $200 billion
of taxpayer dollars
over the past year
to Ukraine to aid in the fight against the government's war with Russia.