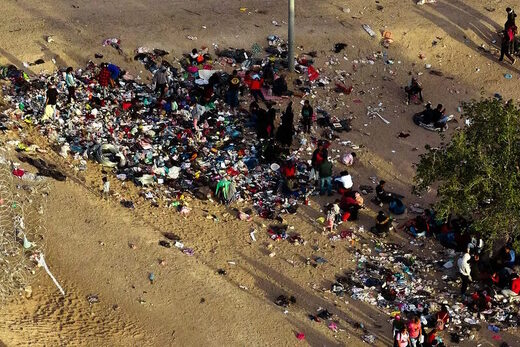 Democrats will block a border security bill until American citizens accept more poor migrants into their workplaces and neighborhoods, Rep. Sheila Jackson Lee (D-TX) told a GOP-led hearing on Tuesday.
"You're not going to get border security coming first," Lee
told
a GOP-picked witness, Rodney Scott, the former chief of the U.S. Border Patrol, who urged legislators to first protect the border before opening up more legal routes for migrants.
She continued:
You need to be able to balance it. You will not accept a border security and recognizing pathways to legal entry [bill]? ... When the late [Sen. ] John McCain, we had a very strong comprehensive bill — and it had border security and the legal pathway.
Lee's frank statement exposed the core politics of migration: Democrats — and their bipartisan business and media allies — will block any border security bill unless the GOP votes to let them legally import more poor migrant workers, consumers, renters, and poor people who will turn to government agencies for help.
The 1990 immigration laws accept 1 million immigrants and 1 million temporary workers per year. Those complex laws are also being used by President Joe Biden's deputies to chaotically extract at least
2 million
southern migrants each year from poor countries.
That vast inflow adds up to slightly more than one migrant for every American birth.
Roughly one-third of Americans favor migration,
while more than
two-thirds
want less migration.
Yet Democrat politicians — and their White House allies — are not moving from their Nation of Immigrants plan, whatever the growing mayhem and
pocketbook damage
caused by their half-open border policies.
Part of the price for this hostage policy was paid by Tammy Nobles, a working-class mother whose daughter — Kayla Hamilton —
was murdered
in her trailer park home by a criminal migrant who was allowed into the United States by the federal government. Nobles spoke to the committee:
Kayla's murderer was living there for less than five days before he viciously murdered my daughter. Kayla had two jobs. She was working at a cleaning company and at a grocery store. Kayla had autism but she was determined to live independently and make her way in this world. And my baby paid the ultimate price.

She had just gotten home from work, working the night shift, and said goodbye to her boyfriend that morning when he left for work. She then went to sleep. The murderer went into Kayla's room, startling her, grabbed her iPhone or iPad charger, and wrapped it around her throat and face while strangling her to death. Kayla grabbed her phone and called her boyfriend but went to voicemail. The voicemail of the murderer strangling her was two minutes and 30 seconds long. The murderer then violently sexually assaulted Kayla. Kayla's boyfriend came home from work and found her dead on the floor. The charger cord was so tight around her neck and face that her boyfriend had to use his teeth to get it off. The murderer robbed her of her phone and $6 — $6 is all my baby had in cash ... He then went to lunch.
GOP Rep. Wesley Hunt (R-TX) showed the economic price that is being paid by ordinary Americans because of the Democrats' policy of imposing mass migration.
"For the Democrats, migrants jumped to the top of the [priority] list while Americans are consistently left behind ... let me show you a real-life humanitarian crisis," Hunt said, adding:
American cities have been crumbling long before President Biden open the border — and now that every town that we know of — including New York City — is a border town, it's about to get worse.

This is Philadelphia. These are not illegal immigrants. They're American citizens currently living in abject poverty, and this situation is about to get worse.

Greetings from Gary, Indiana. Or is that Eastern Ukraine? Hard to say, but I can guarantee you that if this were Eastern Ukraine, the government will be printing as much money as possible to help them. But not our own American citizens.

....

But wait, there's more. This is Redwood City, California. Or is it Tent City, California? Does this look like a country that's thriving? Does this look like a country that's equipped to handle a massive influx of millions more [migrants] into this country illegally? I think not.

The situation is only going to get worse. This is the death of the American dream ... and it ends in abject poverty and despair for Americans.
The GOP's third witness, Teresa Kenny, who is a City Supervisor in Orangetown, N.Y., described the impact of migrants on her town near New York City.
Over the last two years, there's been a steady increase of migrants finding their way to Rockland County, settling in with the support of family, friends, and local community groups ...

How are these [migrant] men without English skills, without family support, going to integrate into our community? I will tell you what will happen; They will end up renting [rooms] from unscrupulous landlords and we know that's happening because just this past March, there was a tragic house fire in Rockland [county] that killed five undocumented immigrants, including two children with five others being hospitalized.

Orange and Rockland County just do not have the resources or staffing levels to investigate and remedy these types of situations ... It's in our town today. It will be in yours tomorrow.
Committee chairman Rep. Tom McClintock (R-CA) spotlighted another cost of the Democrats' pro-migration "Nation of Immigrants" demand:
Drug trafficking now produces an average of 200 fentanyl deaths in the United States every day — the equivalent of a passenger jet crashing every day. Just a few days of such carnage would ground every aircraft in America. We're told that human trafficking is now becoming an even more profitable business to the cartels than drugs. Illegal migrants arrived deeply in debt to the cartels as violent gangs are proliferating in our cities to enforce these debts.

In places like Tulare County, California, just outside of my district, we're starting to see cartel executions of entire families, including in this case, a mom shot through the head as she shielded her baby. Every border patrol officer says the same thing — this is no longer a border problem. If it hasn't already come to your community, it soon will. I'm afraid this will culminate either in a terrorist attack by elements that have come in through our border or the kind of cartel gun battles breaking out in cities that have already become commonplace in Mexico.
Democrats and their witness repeatedly described the "Nation of Immigrants" price they are demanding from Americans before the Democrats support border protections.
"Democrats have real workable solutions to manage migration [but also] expand legal pathways on top of the parole programs created by the Biden administration," said Rep. Pramilla Jayapal (D-WA), the Indian-born progressive who chairs the judiciary's committee's immigration panel. She repeated the price, saying:
By creating a more humane immigration system that recognizes the horrific conditions that caused migrants to flee as well, as contributions of immigrants to America, we can decrease unauthorized crossings, strengthen our economy and protect migrants and citizens from harm.
"The Biden administration has been working to get our immigration system back on track, and Republicans have been fighting him every step of the way," said Rep. Jerry Nadler (D-NY), who is the top Democrat on the judiciary committee. He described what he wants in exchange for a border deal:
The United States has a long history of welcoming asylum seekers to our shores. My constituents in Manhattan are able to see a reminder of this history every day, the Statue of Liberty, welcoming "the tired, the poor and huddled masses yearning to breathe free." Throughout our history, refugees from near and far and sought safety here, and while our laws have never been perfect, they have always allowed at least some refugees to enter.
"We cannot fix the border without also reforming legal immigration pathways," said the Democrats' witness at the hearing, Mark Hetfield, who is the president of the HIAS migration agency. The two goals are combined, he claimed:
Congress has not addressed legal immigration pathways in over three decades. The pretext for not doing so is that we cannot fix legal immigration pathways until we fix the border. This is a false choice, ignoring the laws of supply and demand ... As long as there are jobs to fill that American citizens cannot or will not do, the U.S. government will not be able to secure the border. Congress needs to establish more pathways.
Outside the hearing, in many speeches, press events, and seminars, Biden's deputies repeatedly echo these claims.
"There are businesses around this country that are desperate for workers [and] there are ... desperate workers in foreign countries that are looking for jobs in the United States," border secretary Alejandro Mayorkas said May 11.
Mayorkas says he is building a mass migration system to deliver workers
to wealthy employers and investors
and
"equity"
to poor foreigners. The nation's border laws are subordinate to elite opinion about "
the values of our country,"
Mayorkas claims.
In contrast, the GOP is split — and its sizable establishment wing continues to
demand
more imported workers, renters, and consumers.
Extraction Migration
The federal government has long operated an unpopular
economic policy
of
Extraction Migration
. This colonialism-like policy
extracts
vast amounts of human resources from
needy
countries, reduces
beneficial trade
, and uses the imported workers, renters, and consumers to grow Wall Street and the economy.
The migrant inflow has successfully
forced down
Americans' wages and also
boosted rents
and
housing prices
.
The inflow has also pushed many native-born Americans out of careers in a
wide variety
of business sectors and contributed to the
rising death rate
of poor Americans.
The
lethal policy
also sucks jobs and wealth from heartland states by
subsidizing
coastal investors with a flood of low-wage workers, high-occupancy renters, and government-aided consumers.
The population inflow also
reduces
the political
clout
of native-born Americans, because the population replacement allows elites to divorce themselves from
the needs
and
interests
of ordinary Americans.
Migration — and especially, labor migration — is unpopular among swing voters. A 54 percent majority of Americans say Biden is allowing a southern border invasion, according to
an August 2022 poll
commissioned by the left-of-center National Public Radio (NPR). The 54 percent "Invasion" majority included 76 percent of Republicans, 46 percent of independents, and even 40 percent of Democrats.