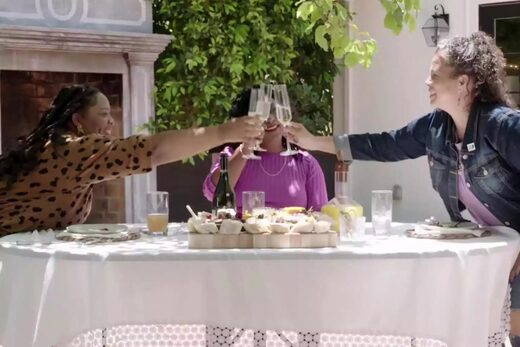 Black Lives Matter ended last year with a nearly $9 million deficit — while still paying out millions to organizers as well as relatives of
controversial co-founder Patrisse Cullors
.
Tax documents posted online
show that BLM's Global Network Foundation ended the financial year in the red to the tune of $8,559,748.
The filings show that
the nonprofit recorded revenue of $8.5 million — roughly half of the more than $17 million it spent.
That deficit is made even more extreme given that the previous year, it actually increased its piggybank, earning nearly $42 million after expenses.
The financial hit also left the group with $30 million in assets, down nearly $11.75 million from where it started the financial year.
That means it has spent two-thirds of the $90 million it raised, which Cullors — who quit over
earlier financial scandals
highlighted by The Post — previously
dismissed as "white guilt money."
Despite the crunch, millions of dollars were paid to companies with close ties to the group — including one owned by Shalomyah Bowers, who replaced Cullors when she quit.
An independent auditors' review of the previous two years, also posted online, showed that Bowers' company was paid a staggering $1.69 million "for management and consulting services."
A sister organization, Black Lives Matter Grassroots,
previously accused Bowers
of "blazing a path of irreparable harm to BLM" and "siphoning" millions to his firm.
"Instead of using the donations for its intended purposes, Mr. Bowers diverted these donations to his own coffers," the group claimed in a lawsuit.
Board member Danielle Edwards also owned a firm "which was paid $1,063,500 for consulting services,"
the auditors' review said.
Cullors' graffiti-artist brother, Paul Cullors, was the
only current salaried employee
last year, getting nearly $125,000
, with $15,000 in "other compensation" for
unspecified security
.
But his security firm, Black Ties LLC, was paid way more handsomely, getting $756,330
,
similar to what it was paid the previous financial year.
The auditors' review noted: "A sibling of the former Executive Director owned a security and protection company, which was paid $1,602,185 for security services."
The documents, shared by the New Mexico Attorney General's Office, were first revealed
by the Washington Free Beacon
.
"While Patrisse Cullors was forced to resign due to charges of using BLM's funds for her personal use, it looks like she's still keeping it all in the family,"
Paul Kamenar, an attorney for the National Legal and Policy Center watchdog group, told the Free Beacon.
BLM also agreed to pay $600,000 to an unidentified former board member's consulting firm
"in connection with a contract dispute," the Free Beacon noted.
Former managing director Kaileee Scales got the only other listed salary, nearly $115,000, for what was listed as an ongoing severance payment.
The five listed board members — including Bowers, Edwards and current leader Cicley Gay — also reported getting no income from the group.
The Free Beacon noted how there was no mention of any payments to Cullors'
baby daddy Damon Turner
or his company, Trap Heals, which was paid $969,000 in 2021.
However, the outlet noted that charities are only required to disclose the names of their five highest-compensated independent contractors.
In its filings, BLM said it was "working inside and outside of the system to heal the past, re-imagine the present, and invest in the future of black lives through policy change, investing in our communities, and a commitment to arts."
"We are building a community of healing and nurturing ecosystems that support black communities impacted by oppressive structures and injustice," it said.
BLM did not respond to the Free Beacon's report and did not immediately respond to messages left by The Post early Wednesday.
Gay, the activist group's chair current chair, said she was brought in to straighten out BLM's finances — even though she has bungled her own finances, having filed for bankruptcy in 2005, 2013 and 2016.
Meanwhile, Black Lives Matter Global Network Foundation doled out more than $4 million to black activist groups in the financial year ending 2021 — some of which had criticized the group in the past for not helping the black community after they received millions in corporate cash.
The group's 990s from 2021, obtained by The Post, show that it gave $400,000 to the Tamir Rice Foundation in Ohio.
That group was set up by Samaria Rice, the mother of Tamir Rice, a 12-year-old African-American boy who was killed by a white policeman in 2014 while playing with a toy gun.
Rice, who started her foundation in 2018 to conduct after-school programs for at-risk children, had been a vehement critic of Black Lives Matter and its co-founder Patrisse Cullors.
She claimed that the group did not support mothers of black children who had been killed as a result of police violence and pointed the finger at Cullors.
Cullors resigned from BLMGNF a month following a 2021 Post exposé of the group that showed she had gone on a
$3.2 million real estate buying spree
, snapping up properties in Los Angeles and on the outskirts of Atlanta.
At the time, Rice told The Post, "I don't believe she is going anywhere, It's all a facade. She's only saying that to get the heat off her right now."
Cullors denied that she used charity cash for her personal real estate purchases — while complaining that financial disclosures were "triggering."
In addition to the Tamir Rice Foundation, Black Lives Matter also doled out $1,269,368 to the Love Not Blood Campaign, a California-based group founded by Cephus Johnson, whose nephew, Oscar Grant, was killed by police in 2009.