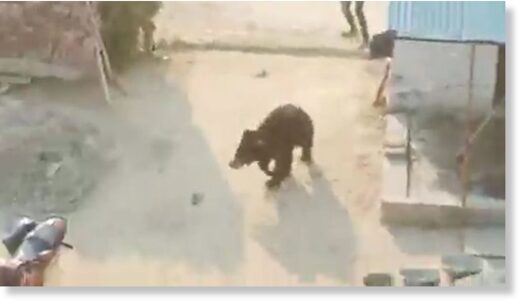 A wild bear left locals stunned after it was filmed going on a wild rampage through a sleepy village.
Footage captured from a rooftop shows the large animal wreaking havoc as it charged at villagers into the settlement and attacked a number of people.
The ferocious bear even broke into someone's home by smashing through a wall, according to local reports, injuring several people inside.
Villagers repeatedly chased the bear, throwing objects at it in an effort to scare it off.
At one point, the bear is seen rapidly turning around to chase a villager behind a house after he attempted to scare it away.
The animal was later tranquilised as he hid in a residential shed late at night, according to local officials.
Officers at the local Forest department in India's Uttar Pradesh region said that seven people were injured in the incident in the villages of Neguraban Singh and Bagheda Kala on Thursday.
India's most populated state with a population of over 241 million, Uttar Pradesh receives frequent international attention for high-profile incidents involving animal attacks on humans.
Increased disturbance of habitats, and dwindling numbers of prey resulting from changing land use have been cited as likely reasons for the hostile interactions.
Just last month, a
leopard broke into a courtroom in the state and injured several people
.
The animal stormed the Ghaziabad District court premises in Uttar Pradesh before entering the Chief Judicial Magistrate's court on the first floor where it attacked multiple victims.
It is believed three people were taken to hospital following the attack.
A police team was alerted to the incident and officials managed to trap the leopard.
In the frantic video, people around the court building could be seen rushing to safety as they attempt to run away from the huge leopard.
According to reports, the leopard attacked and injured several people outside before entering the courtroom.
(Video
here
)