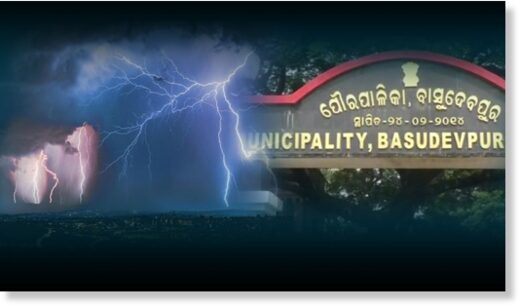 Different parts of Odisha have been witnessing rains and thunderstorms under the influence of western disturbance.
While heavy rain lashed several districts of the state for over a week, more than 5,000 lightning strikes have been reported in Basudevpur area of Bhadrak district within half-an-hour on Wednesday. Five people are stated to have been killed in this event, sources said.
Meteorologist Umashankar Das of Bhubaneswar Meteorological Centre said in a tweet that more than 5000 lightning strikes occurred in Basudevpur area of Bhadrak in just 30 minutes.
Quoting local source, he said unfortunately five people died because of this severe lightning event.
"More than 5000 lightning strikes today just in 30minutes near the #Basudevpur of #Bhadrak, Its beyond your imagination the vulnerability associated with thundercloud & how fatal it could be!!!," Das tweeted.
However, there is no clear information about the exact place of Basudevpur where so many lightning strikes occurred during such a short period.
Meanwhile, the India Meteorological Department (IMD) has forecast heavy rainfall (7cm to 11cm) at one or two places in Sundargarh, Keonjhar, Mayurbhanj, Balasore, Cuttack, and Dhenkanal districts of Odisha on March 31.
The state is likely to witness thunderstorm activity with lightning, hail and gusty wind and accordingly yellow and orange warnings have been issued till April 2 morning.