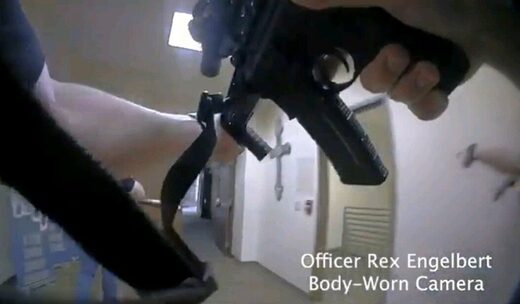 The Metropolitan Nashville Police Department has released the body-worn camera footage of the heroic officers who took down
28-year-old transgender shooter Audrey Elizabeth Hale
, a former Covenant School student who went by the trans name "Aiden."
In the six-minute video posted to YouTube, two points-of-view are compiled, showing the perspectives of Officer Rex Engelbert, a four-year MNPD veteran, and Officer Michael Collazo, a nine-year MNPD veteran,
the officers credited with fatally shooting Hale
:
"The kids are all locked down but we have two kids that we don't know where they are," a woman tells Engelbert arriving on the scene. She adds, "Upstairs are a bunch of kids," where the active shooter is at the time. An alarm is blaring as the team of first responders clears each classroom. "Let's go!" the cops shout before heading up the school stairwell, running toward the gunfire.
In the second-floor common area, a team of responding officers encounters Hale
firing through a window at arriving police cars
. "Reloading!" an officer yells when Engelbert pulls the trigger several times. Hale can be seen dropping to the ground, neutralized.
"Move! Move!" Collazo commands the other officers. He then shoots Hale, whose hands were still gripping the firearms. "Get your hand away from the gun!" an officer orders Hale. "Suspect down! Suspect down!" Collaza repeatedly shouts, disarming Hale.
A map and writings, including a "manifesto," written by Hale revealed that her attack was "calculated and planned,"
MNPD says
. A search warrant executed at Hale's home resulted in the seizure of a sawed-off shotgun, a second shotgun, and other evidence.
Three children were killed in the private Christian school shooting in addition to three faculty members: Evelyn Dieckhaus, William Kinney, and Hallie Scruggs, all age 9; Mike Hill, age 61, Cynthia Peak, age 61, and head of school Katherine Koonce, age 60.
In earlier footage released by MNPD, the armed trans militant, who attended the school years ago, arrived on campus in
her Honda Fit
. She was
heavily armed with three guns
and
shot her way into the school through doors on the side of the building
.
The surveillance video shows Hale stalking the school hallway, where the children's ministry is located, looking for victims.