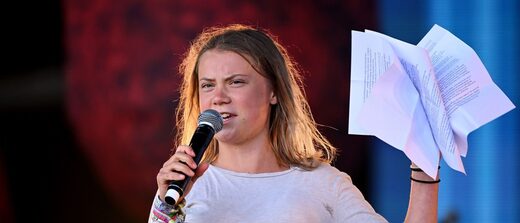 Swedish climate activist Greta Thunberg will receive an honorary doctorate degree in theology from the University of Helsinki in Finland on June 9, the school announced in a press release.
Thirty "distinguished individuals" from around the world will be awarded the university's "highest recognition,"
according to
a March 20 press release. The Faculty of Philosophy, the Faculty of Veterinary Medicine, the Faculty of Theology and the Faculty of Law will all give out honorary doctorates. Thunberg is the only individual listed as an "activist" who is receiving a degree, the announcement shows.
Thunberg, 20,
gained
popularity in 2018 when she refused to attend class until the Swedish general elections took place due to her concerns about climate change. She made international headlines again when she
spoke
at the United Nations in 2019, accusing politicians of stealing her childhood. Most recently, Thunberg came under scrutiny for deleting a years-old Tweet citing a
claim
that humans would go extinct if fossil fuels were still being used by 2023.
2023 marks 100 years since Finland passed the Freedom of Religion Act. The Faculty of Theology's theme for the ceremony is "freedom," theology professor Martti Nissinen
wrote
in a press release.
"The theme encompasses religious freedom, human rights and the state of the world, topics manifested in the selection of individuals due conferral of honorary doctorates and heard in the speeches given at various stages of the conferment festivities," Nissinen wrote.
Thunberg previously
received
an honorary doctorate law degree in 2021 from the University of British Columbia.
The University of Helsinki did not immediately respond to the Daily Caller's request for comment.