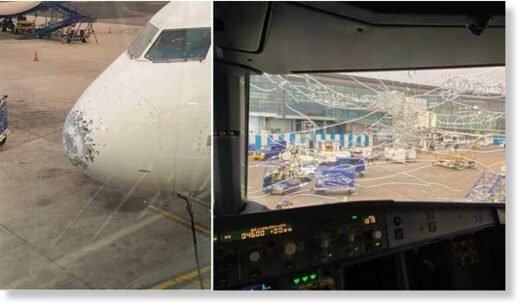 An IndiGo flight suffered major damage to its windshield and radome amid a heavy hailstorm, while landing at the Hyderabad's Rajiv Gandhi International Airport. As per reports, India's largest air carrier was operating Flight 6E 6594 from Ahmedabad to RGIA in Hyderabad on Saturday evening, March 18, 2023. The pictures of the damages incurred by the plane have surfaced on Twitter recently. A Twitter user going by the name Jet Arena shared the images, revealing the damages on the Airbus A320neo plane.
As per and IANS report, the plane suffered damages when it encountered a hailstorm during its descent towards Rajiv Gandhi International Airport in Hyderabad. No one was injured in the incident and the pilot successfully landed the plane at the airport. The aircraft's radome and windshields were damaged in the hailstorm.
The incident occurred around 6 p.m. on Saturday when Hyderabad and surrounding districts witnessed heavy rainfall and hailstorm. The Flight 6E 6594 was hit by a hailstorm during its descent towards the airport in Shamshabad, about 30 km from the city. The damaged parts of the aircraft were later replaced.
Many Twitter users are hailing the pilot who successfully navigated the bad weather to safely land the plane at the Hyderabad airport, despite suffering damages to the plane. One Twitter user wrote, "Kudos to the crew who landed the aircraft safely."