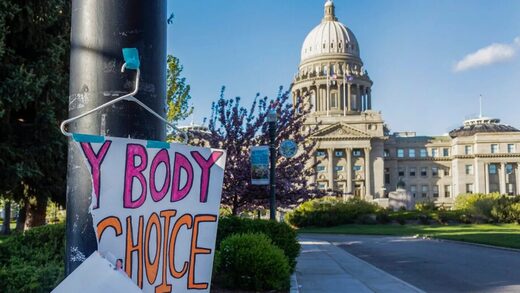 Patients will now have to travel over 45 miles to the closest hospital with labor and delivery.
An
Idaho hospital
made the decision to axe its labor and delivery department, saying the "political climate" made it too difficult to keep it staffed.
"Highly respected, talented physicians are leaving. Recruiting replacements will be extraordinarily difficult," Bonner General Health, located in Sandpoint, Idaho, said in a social media post Friday.
"The Idaho Legislature continues to introduce and pass bills that criminalize physicians for medical care nationally recognized as the standard of care. Consequences for Idaho Physicians providing the standard of care may include civil litigation and criminal prosecution, leading to jail time or fines."
The statement comes after Idaho enacted some of the strictest
abortion restrictions
in the country last year, including a provision that allows people the ability to sue a doctor who performs an abortion for up to five years.
That reality left Bonner General with little choice but to close their labor and delivery department, the hospital argued, with board president Ford Elsaesser saying they tried everything they could to avoid the outcome.
"We have made every effort to avoid eliminating these services," Elsaesser said in the post. "We hoped to be the exception, but our challenges are impossible to overcome now."
Patients who would have used Bonner General for labor and delivery will now have to drive to hospitals in Coeur d'Alene or
Spokane, Washington
, over 45 miles from Sandpoint.
Bonner General also said the decision was made after the hospital struggled to maintain
pediatrician coverage
, which would have made it "unsafe and unethical to offer routine Labor and Delivery services."
The hospital also noted the changing demographics of the local area, pointing out that fewer babies are being born in the hospital every year.
The hospital said it will attempt to continue labor and delivery services through May 19, though cautioned that meeting that goal would depend on their ability to staff the department.
"The closure of obstetrics will not be an easy transition for our Bonner General Health teams or our community and surrounding area," the hospital said.
Michael Lee is a writer at Fox News. Follow him on Twitter
@UAMichaelLee