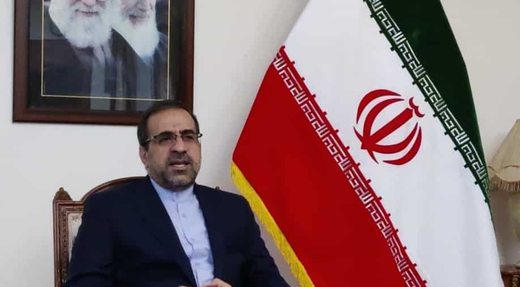 Iran's ambassador to India Iraj Elahi has announced that the process of Iran's membership in the Shanghai Co-operation Organisation (SCO) will be completed at the upcoming summit in India as the West Asian country attends the summit as a full member.
Elahi stated,
"India as a member of SCO has supported the membership of Iran.
According to the calendar of SCO, the next summit of SCO will be held in India. Iran will be a full member of SCO in India."
The SCO is a major global grouping comprised of China, Russia, India, Pakistan, Kazakhstan, Kyrgyzstan, Tajikistan, and Uzbekistan. Iran has been an observer in the SCO for years
and has expressed interest in becoming a full member for several years.
Elahi confirmed that
Iran's President Ebrahim Raisi will attend the summit in India. "It is expected that process of membership of Iran will be completed
in the summit in India and we are waiting for the summit and the president will participate," he said.

Comment: Putin is also expected to be in attendance.


Iran's accession to the SCO would likely strengthen the organisation's position in West Asia and give Iran greater influence in the region. India is the chair of the grouping this year and will host the summit on 25th June.
Iranian ambassador hoped India will consider resuming oil imports from Iran, stating that his country has found ways to sell oil despite the sanctions
imposed by western nations. In a presser, Elahi said that "we have found and always expressed readiness to resume export to India, it's up to India".
Elahi noted that India's own national interest should guide its decision on oil imports, adding that the two nations have complementary economies.
He said that "Iran is an oil producer and seller, and
India is an agriculture producer and importer of oil and petrochemicals. In some cases, the food security of both countries is related to others. We understand India and believe that we should expand our ties
to overcome any obstacle or sanctions."
He emphasised that India is a rising power with a powerful economy, capable of resisting pressure from the west.
He pointed that, "India is a rising power, it has a powerful economy and can easily resist against the pressure of the west, or the US. As India resisted the pressure of buying oil from Russia
, we believe that India could and hope for benefits for the Indian economy and people, India government will restart importing oil."
Highlighting the potential for expanding economic ties between Iran and India, he noted that "the potential of economic ties is not just 1 or 2 billion...whatever we need is available here. It means we can serve our imports from India, food or pharma industry."
The ambassador has
expressed optimism about the future of the Chabahar port project
. "The Indian government has a positive approach about Iran and Chabahar," Elahi said, adding "we believe Chabahar is not just an economic issue. For India, Iran and Chabahar are important. Chabahar is an oceanic port, close to the Indian Ocean and
the closest road to Afghanistan
. We should consider Chabahar not just from the viewpoint of the economy but a strategic partnership between Iran and India."