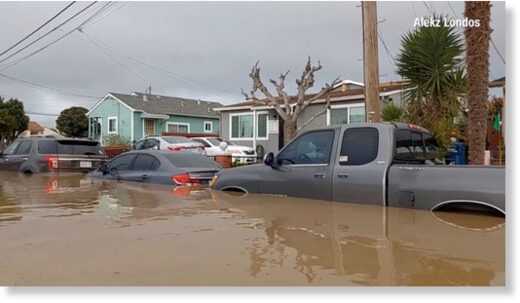 The storm system that's hammered California this week is heading east - but not before dousing the state with more torrential rain and knocking out power with ferocious winds.
Daily rainfall records were shattered Tuesday in Los Angeles, Santa Barbara and Santa Maria. The deluge will keep hitting Southern California on Wednesday before moving east, threatening 25 million people in the central US.
California Gov. Gavin Newsom expanded a state of emergency to cover 43 of the state's 58 counties
Tuesday night as high winds and intense rain wrought havoc in the state.
Some cities endured hurricane-force winds.
Top wind gusts of 97 mph were measured at Santa Clara County's Loma Prieta, 93 mph at Alameda County's Mines Tower and 74 mph at San Francisco Airport, according to the National Weather Service.
In San Francisco, firefighters believe fierce winds sent out
glass falling from a downtown high-rise building,
they said.
Across the state, more than 169,000 customers had no electricity Wednesday afternoon, according to PowerOutage.us.
All this severe weather is caused by the 11th atmospheric river to strike California this season. And it won't be the last, with yet another set to pummel the state next week.
Atmospheric rivers are long, narrow bands of moisture that can carry saturated air thousands of miles like a fire hose.
"These atmospheric rivers are transporting a ton of moisture from the Pacific Ocean out to the West Coast of the US," said Maj. Chris Dyke, a member of the
Air Force Reserve's "Hurricane Hunters
" weather reconnaissance team.
The squadron has been flying planes into California's storms to drop instruments called "dropsondes" inside atmospheric rivers to relay live weather data. The information is immediately put into weather forecast models, which dramatically improves the accuracy of forecasts.
(Read more
here
)