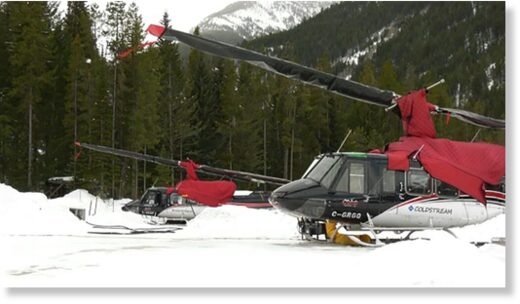 Three German tourists from Bavaria are dead,
the victims of one of the most dangerous avalanche seasons of recent memory in British Columbia.
The trio were part of a nine-person heli-ski group that took off early Wednesday to explore an area near Panorama Mountain Resort near Invermere, B.C.
The skiers triggered the slide, according to avalanche experts, and despite having avalanche training and a guide on hand, three were unable to get out of it.
Four, including the guide, were injured and transported to hospital in non-life-threatening condition.
"It is impossible to put into words the sorrow that we feel," said Tom Brinkerhoff, the president of RK Heliski, the tour group that organized the trip. "And the sadness that is shared by our guests, their families and all of our staff."
Staff with RK Heliski call it the hardest day of their careers.
Backcountry skiing carries an inherent risk, but this ski season has been especially tough.
Twelve people have died this season in the British Columbia mountains, and this is the second heli-skiing company to be involved in a deadly slide.
"In any outdoor activity, you can't eliminate 100 per cent of the risk," said RK Heliski general manager and guide Graham Holt.
Another skier who went up with RK Heliski two weeks ago said he was shocked by the news, particularly after going through the company's safety protocol.
"They trained us before we took the helicopter," said Pascal Bergevin. "They talked to us, [and] we had a transponder on us."
It's that training that's being credited for the others making it out alive Wednesday.
"I think it does attest to the challenging season that we've had," said Jesse de Montigny, of Yamnuska Mountain Adventures in Canmore. "And the risks the industry faces."
UNSTABLE SNOWPACK
A warm start to the season followed by extreme cold and rain has led to an unstable - and unpredictable - snowpack.
"These conditions are really difficult to recognize in the field," said Avalanche Canada's Simon Horton. "It makes it difficult to identify safe and unsafe slopes."
And the risk isn't over yet.
"Since we're not out of the winter, we could see tricky conditions continuing," said Horton, "Especially heading into March, which is a time of year where accidents can be quite common."
Experts say backcountry skiers need to be aware of the risks when they come to this area and remind everyone to pay attention to any warnings. Having some sort of basic training before going up is highly encouraged - but even professionals are struggling in the present conditions.
The three victims were said to be from Bavaria in southern Germany.