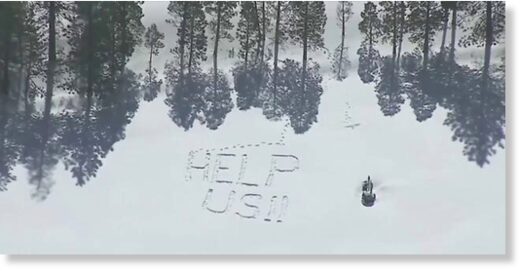 Residents in the Southern California are pleading for more help as some remain in an increasingly desperate situation after a massive snowstorm overwhelmed the area.
AIR7 HD, from our sister station, ABC7 Los Angeles, flew over the Lake Gregory area of Crestline Friday afternoon and captured a large message written out in the snow that read "HELP US!!"
Despite facing treacherous roads, aerial footage showed dozens of residents lined up at a food distribution outside a Crestline grocery store where the roof had collapsed earlier in the week.
Some people living in the smaller mountain communities like Crestline and Arrowbear say they are feeling forgotten.
"There's all these promises of snow plows are coming, our help is on the way, or food distribution is being set up, and for five days we've seen none of that," Crestline resident Agina Sedler said.
Brian Guthrie and his wife have been paving a tunnel from their home to their pantry shed in Arrowbear for days.
"Even if we could get out of our driveway, it's impossible for us to drive 10 feet down the road," Guthrie said.
A late-February blast of arctic air produced a rare blizzard in the San Bernardino Mountains,
where thousands of people live at high elevations in forest communities or visit for year-round recreation.
Lake Arrowhead, nearly 10 miles from Crestline, saw a seven-day snowfall total of 109 inches. The community's yearly average is 22 inches. Meanwhile, neighboring

Running Springs received 150 inches of snow.



San Bernardino County is one of 13 counties where Gov. Gavin Newsom declared states of emergency due to the impacts of severe weather.