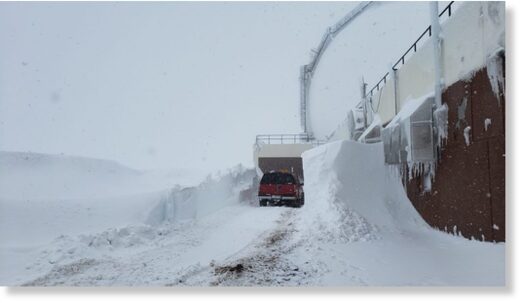 Dennis Patterson's job at the W.M. Keck Observatory atop 13,803-foot Maunakea primarily focuses on caring for and maintaining the observatory's cameras and spectrometers. But the recent winter weather has given him another purpose during his four days a week at the summit: shoveling snow.
The Big Island was drenched with rain by two Kona Lows in the middle of February.
But at the high elevations, the storms also produced more than a foot of snow,

including 10-foot drifts in some places on Maunakea

.
"I was still shoveling up there Saturday," said Patterson, who is used to the white stuff having lived in Colorado and Utah. "This last storm was pretty epic. We still haven't been able to open the domes for the last 12 or 13 nights due to ice and snow buildup."
While the "old-timers" have told Patterson they've seen bigger storms, the recent ones are up there.
At sea level on the Big Island, one person in East Hawai'i on Wednesday wondered if anyone had Noah's phone number so they could ask if there's room left on the ark as rain continued to drench parts of the Big Island.
But those who work at the frigid summit of Maunakea — the temperature was just 24 degrees shortly after 7 p.m. on Wednesday — faced yet another round of snow and ice.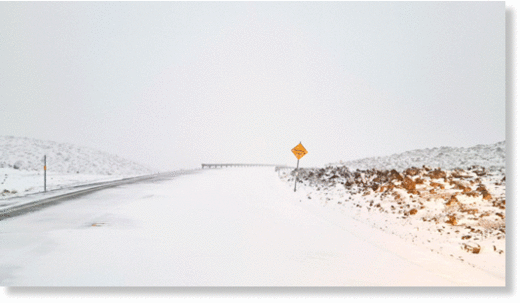 The summits are under a winter weather advisory until 6 p.m. on Thursday, with the National Weather Service forecasting additional accumulations of up to 4 inches on the summits along with freezing rain. Blowing snow also will reduce visibility, at times to zero.
The cold core of a rather strong low-pressure system just east of the state is causing the snowy weather. It is even pushing the freezing level down in elevation, far enough so the Onizuka Center for International Astronomy, also known as Hale Pohakū, and the Maunakea Visitor Information Station at between 9,200 and 9,300 feet in elevation even got a rare dusting of snow on Tuesday.
"Over the past few days we have had a good amount of rain coming into Hilo and combined with the cold temperatures from the recent cold front, we got a beautiful dusting of snow this morning," said
Nahua Guilloz,
director of stewardship programs at the University of Hawai'i at Hilo Center for Maunakea Stewardship that oversees the facilities.
The last time it snowed there was in February 2020.