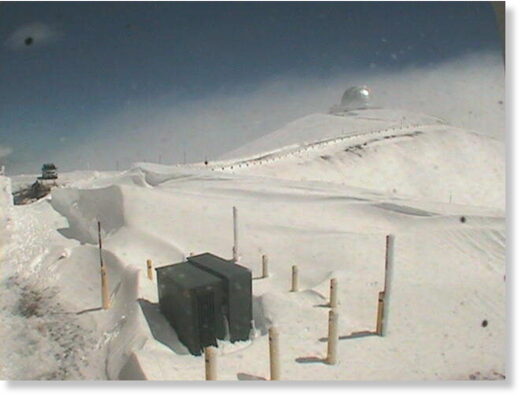 While many areas in East Hawai'i received more than 10 inches of rain from the passing Kona Low storm, Mauna Kea and Mauna Loa were also blanketed with several inches of snow.
Both summits have been under a winter storm warning since Friday. It lifted at noon today.
According to www.snow-forecast.com, 13 inches of snow fell over a 48-hour period between Friday and this morning on the Mauna Kea summit.
The Maunakea Access Road is closed to the public at the Visitor information station at an elevation of 9,200 feet due to thick fog, snow and icy road conditions, high humidity, below-freezing temperatures, and whiteout conditions. Maunakea Rangers will continue to monitor the road and weather conditions and will update this message as conditions change.
Hawai'i Volcanoes National Park also posted images of snow on Mauna Loa this morning. It is unknown at this time how many cumulative inches fell.