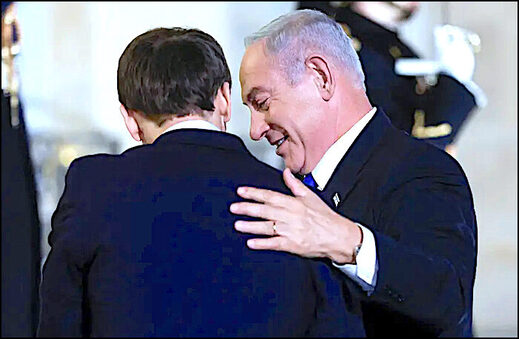 Netanyahu and Macron spoke about Israel's reluctance to send weapons or an iron dome to Ukraine.
Israel's covert operations against Iranian targets ultimately help other countries including Ukraine,
Prime Minister
Benjamin Netanyahu
told
French President Emmanuel Macron
as he sought to bolster his image as a supporter of Kyiv.
Netanyahu told Israeli reporters as he briefed them after the meeting:
"We operate independently against Iran at different levels, but this activity is also systematically aimed at degrading or harming Iran's capabilities against us. But of course, it also harms Iran's capabilities or reduces them in relation to other arenas."
He underscored his concern about
Russia's growing military alliance with Iran,
in which Moscow is arming Tehran and the
Islamic Republic
in turn is sending weapons of use against Ukraine. Some of the weapons it produces also pose a threat to Israel, so the Jewish state accomplishes two goals in working to eliminate them on the ground before they can be put into operation.
Netanyahu has highlighted the manner in which Israel's targeting of Iranian weapons
has a positive impact on Ukraine
as he has come under pressure to show the West, particularly the United States that he is standing strong with Kyiv.

Comment: Netanyahu: 'Look there not here'.


Blinken urges Israel to send Ukraine aid
US Secretary of State Antony Blinken
told reporters in Jerusalem earlier this week that the
Biden Administration expected Israel to assist Ukraine with "all" its humanitarian, economic and security needs.
To date, Israel has provided humanitarian and economic assistance to Ukraine, as well as publicly condemned Moscow,
but it has not sent it defensive or offensive weapons
fearing that a step would sever its ties with Moscow.
The Russian Foreign Ministry this week has issued veiled threats against Israel for its assistance to Ukraine, noting in particular that it would target any military systems set there by Israel.
Netanyahu's visit to Paris comes
as Iran has charged that it has been behind the explosion in its weapons factory in Isfahan.
Israel has neither confirmed nor denied the charge.

Comment: Damage control?


His trip marks his first foreign visit since he returned to power less than two months ago, stating that one of his primary goals was to thwart Iran's push to become a nuclear power.
It's a move that has been made easier by the growing public sentiment against Iran due to its military support of Iran [sic Russia] and its execution of street protesters.
Iran was also one of the top issues on his agenda with Macron, in a meeting that Netanyahu described as "one of the best" he has had with the French leader.
"We concentrated mainly on the Iranian issue. There is a very great rapprochement between Israel and France in the way we see the Iranian threat."
Netanyahu said that
Macron also seemed willing to consider sanctioning the Islamic Revolutionary Guard Corps.
The Israeli leader recalled that there had been times during his previous tenures as prime minister when he led a solitary campaign against Iran, including when speaking with Europe and the US.
"I now found much more understanding, I must say, and a willingness to act together. I can't go into detail beyond that."