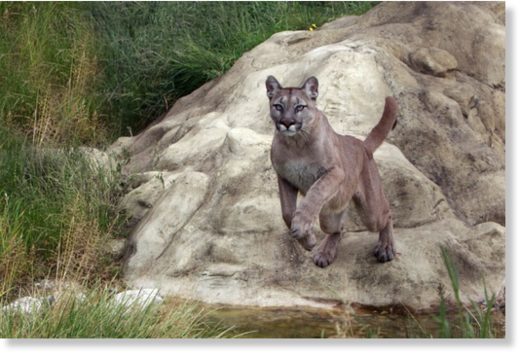 A 5-year-old boy, who raced ahead of his mother and grandfather on a rural trail, was back at home Wednesday morning recovering from wounds suffered in a "vicious" mountain lion attack in San Mateo County.
Capt. Patrick Foy from the California Department of Fish and Wildlife (CDFW) didn't mince words when it came to the violence of the attack in the 1000 block of Tunitas Creek Rd. near the family's farm in Half Moon Bay at around 6:50 p.m. Tuesday.
"The attack was very, very vicious in nature," he told the
San Francisco Chronicle
.
The mountain lion took the boy to the ground and began biting into him. At that point, Foy said, the mother likely saved the child by charging at the mountain lion.
The animal released the boy and the mother scooped up him up, carried him to safety, and quickly called 911.
"Every indication is that she saved her son's life," Foy told the paper.
Officials said the boy had been released from Stanford Medical Center and was expected to recover from his wounds.
On a GoFundMe page, the boy's aunt said the big cat messed with the wrong boy.
"That mountain lion picked the wrong kid and mama to mess with. Jack and his mom bravely fought off the attack but he was left with some battle wounds in the process," Amie Wagner wrote. "Jack has many lacerations, especially on his precious face, in addition to a fracture near one eye. He is covered in cuts, bruises and scratches but his spirit remains intact."
"He is the most courageous, adventurous little guy I have ever met and I am not surprised that if there was a kid who could wrestle a mountain lion and come out on top, it would be Jack."
Meanwhile, fish and wildlife personnel were back on the trails near the Purisima Creek Redwoods Open Space Wednesday morning searching for the cat. The animal's DNA has been recovered from the boy's clothing and investigators were hoping to create a DNA profile of the specific mountain lion.
CDFW said officials were driving the samples to their Sacramento lab and were hoping to get the process started Wednesday evening and completed sometime Thursday.
The attack occurred along private property in a remote location east of Highway 1 and south of Half Moon Bay. The mountain lion has not yet been located.
"Our coastal community has endured so much these past few weeks," said San Mateo County Sheriff Christina Corpus referring to last week's mass shooting in Half Moon Bay and the recent flooding in the area. "Our entire agency is saddened of this news and sends many warm wishes to the child for a speedy and full recovery. Our thoughts are with the family at this time."
Mountain lion attacks on humans are rare. Around 20 confirmed attacks have occurred in California in more than a century of record-keeping, according to CDFW.
Last September, a 7-year-old boy was bitten by a mountain lion while walking with his father around dusk in a park near Santa Clarita in Southern California. The father scared the animal away and the child was treated for relatively minor wounds.
The last known Bay Area mountain lion attack was in February of 2020, when a six-year-old girl was attacked while hiking with her family at a county park in Cupertino.