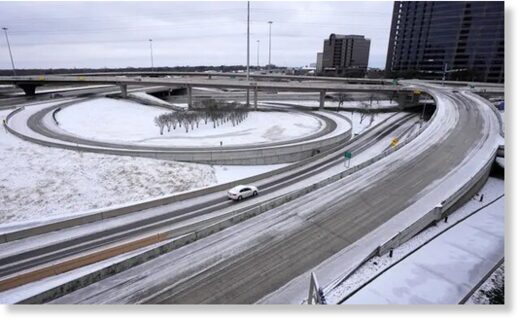 Watches and warnings stretch from Texas to Tennessee and Mississippi, causing traffic delays and flight cancellations
Dangerous road conditions from bands of sleet and snow were blamed for six deaths as a winter storm snarled traffic across parts of the US, forcing the cancelation of flights and leaving hundreds of thousands without power in several southern states.
Watches and warnings stretched from Texas to Tennessee and Mississippi. Several rounds of mixed precipitation, including freezing rain and sleet, were in store for many areas throughout Wednesday, meaning some regions could be hit multiple times, forecasters said.
"It actually looks like it's going to be getting worse again across Texas, it is already a pretty big area of freezing rain across western and south-western Texas," said Bob Oravec, National Weather Service lead forecaster in Camp Springs, Maryland.
Oravec said the winter weather was expected to move north-east across parts of Oklahoma and Arkansas into western Tennessee and northern Mississippi, before starting to end.
"By later in the day on Thursday it should be pretty much done and all the ... precipitation will be well downstream across parts of the south and where it will be mostly heavy rain," Oravec said.
More than 1,900 flights scheduled for Wednesday across the US had been canceled by Wednesday morning,
according to the tracking service FlightAware. The list for cancelations included both major airports in Dallas and airports in San Antonio and Austin, Texas, and Nashville, Tennessee.
Nearly 260,000 power outages were reported in Texas, including more than 130,000 in the state capital, Austin, according to the website PowerOutage, which tracks utility reports.
The Electric Reliability Council of Texas president and chief executive, Pablo Vegas, has promised that the state's electrical grid and natural gas supply will be reliable and there will be no repeat of the February 2021 blackouts, when the grid was on the brink of total failure.
As the ice and sleet enveloped Memphis, Tennessee, Memphis-Shelby county schools announced it would cancel classes due to freezing rain and hazardous road conditions. The school system has about 100,000 students.
The National Civil Rights Museum in Memphis was closed due to the weather.
Also in Memphis, the icy weather delayed the funeral service for Tyre Nichols, a Black man who died following a brutal beating by police officers after a traffic stop.
The Dallas independent school district, with about 145,000 students, also canceled classes on Wednesday.
Emergency responders rushed to hundreds of auto collisions across Texas on Tuesday as the Republican governor, Greg Abbott, urged people not to drive. At least six people had died on slick Texas roads since Monday, including a triple fatality crash on Tuesday near Brownfield, about 40 miles south-west of Lubbock.
Two Texas law officers, including a state trooper who was struck by a vehicle while investigating a crash on Interstate 45 south-east of Dallas, were seriously injured, authorities said.
In Arkansas, the Republican governor, Sarah Sanders, declared a state of emergency on Tuesday because of icy conditions. Her declaration cited the "likelihood of numerous downed power lines" and said road conditions had created a backlog of deliveries by commercial drivers.
Source: AP