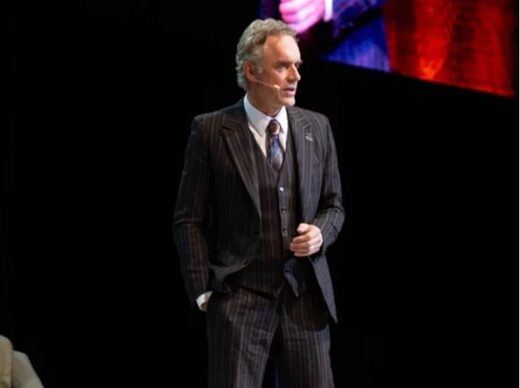 It's a pleasure and a cheer to be able to start a piece with some good news. As of Tuesday morning having duly scanned the various news services I may report that Ottawa is still standing. The nation's capital is still the unscarred and tranquil repository of all that is good and sweet that it always has been despite Dr. Jordan Peterson's having been allowed within its precincts, despite too, being allowed to speak to thousands of Canadians
who wanted to hear him
.
A curious note, though a whole basket of NGOs and other highly-sensitive special interest groups, some even funded by the Government of Canada,
spent much time and energy warning that Ottawa would become a hell-pit of bigotry and hate
(maybe evening requiring its own Special Representative to combat Petersonia — take note, Omar Alghabra)
none showed up to protest the event
.
Anti-bias clinicians explain this as a clear instance of premature or "anticipatory" traumatisation: when the thought of an event supersedes in dread and anxiety the actual occurrence of the event. And
disables the gland responsible for protest and moral grandstanding
.
It is particularly common among the woker members of the population and is co-symptomatic with an allergy to free speech
.

Comment: Good one, Rex.


Congratulations are flooding in to one of the princes of the Trudeau cabinet, the majestically competent Alghabra, for his outstanding appointment of anti-monarchist (a column by Amira Elghawaby
termed
the monarchy "one of the most powerful symbols of racial oppression" and, as an added raising to the pudding call for the "removal of the Queen as Head of State") as a Special Representative to combat Islamophobia.
The appointment has been received with raptures all over with the slight exception of the government of Quebec, a mere hiccup of demurral. To explicate, that government takes exception to her
published remark
from 2019 that "unfortunately, the majority of Quebecers appear to be swayed not by the rule of law, but by anti-Muslim sentiment."
Ms. Elghawaby has attempted to clarity that assertion and on Friday clearly
stated
"I don't believe that Quebecers are Islamophobic."
Passage of time and a government appointment are great educators
.
Is it too soon to ask whether her view that Canada Day
represents
"dominant, European, Judeo-Christian storytelling" has evolved and is she now reconciled to the celebration of our country's founding?
With this sterling appointment by Minister Alghabra may we hope for more Special Representatives. We need them to diminish the burdens and duties of MPs and ministers. I suggest a few:
-Special Representative to combat Pearson backlogs.
-Special Representative to keep track of
dubious contracts
to friends of ministers.
-Special Representative to untangle passport issuance.
-Special Representative to — finally — determine if Jagmeet Singh is Justin Trudeau's main supporter or main critic. And
to report immediately to Mr. Singh so that he may be clear on the matter
.
-Special Representative for low-income Canadians suffering under
carbon taxes for home heating and gasoline
for their several years-old second hand cars.
-Special Representative to inquire into
so-called anti-racist groups stirring up what they claim to be against
.
-Special Representative to halt generous government funding by Heritage Canada of overt anti-Semites. Suggestion,
a Mr. Marouf might be available.
-Special Representative to ask "Why in Hades" is PM Trudeau making it
policy
to deindustrialize Alberta?
-Special Representative to determine why the report on the Emergencies Act is shielded from the public for a full week, while the government gives it
a preliminary go over
.
-Special Representative to inquire into Chrystia Freeland's position on the Board of the World Economic Forum while acting as Canada's Finance Minister. To ask if this constitutes
a double conflict of interest
: whether Canada is getting less than her full attention, or whether it's the WEF. One of the two, by definition, has to be suffering.
-Special Representative to monitor
artificial moral panics instigated and encouraged by politicians for utterly divisive and partisan reasons
.
This last one should be
immensely
funded.