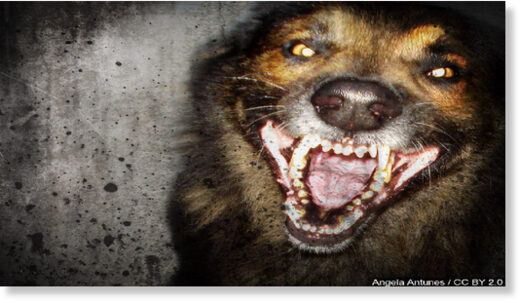 A four-year-old girl has died in a dog attack in Milton Keynes, police said.
Officers attended a house on Broadlands in Netherfield on Tuesday evening after it was reported a dog had attacked a child in the back garden.
Thames Valley Police confirmed the girl died at the scene and the animal had been "humanely destroyed".
A spokesman for the force described the attack, which happened at about 17:00 GMT, as a "tragic incident". No arrests have been made.
Neighbour Rita Matthews, 36, said she would see the girl while walking her own daughter to school.
"I know the girl. It's so sad to hear that news," she said.
"She was always holding her mummy's hand on the way back.
"It's so sad we're not going to see the girl again and I pray all the best to her mum to get her strength back."
Mother-of-four Ms Matthews described the youngster as a "happy little girl, very happy".
"She would say, 'Bye, auntie', and I would say, 'Bye, little girl'," she said. "You know kids, playing around."
Another neighbour told BBC Three Counties that the girl who died was friends with his four-year-old son.
"I was in tears when I saw the news. I was shocked to hear the little one was a victim," he said.
"I didn't tell my boy what's going on. I didn't want him to get upset hearing that news.
"It's close to my door. It's very sad."
'Strong community'
Chris Morley, senior pastor at the nearby Grand Union Vineyard church, said it would be open all day to allow locals time for "quiet reflection".
"Our hearts are really for the family, but we realise a tragedy like this cuts to the heart of the community here in Netherfield," he said.
"It's just being available to people, if people need to talk, and to be around.
"The Netherfield community, and I've seen it over the years I've been here, whether it was the flood of 2018 or the stabbing of that young lad last year, always seems to draw together.
"It's a very strong community, the way people respond to crises."
A vigil would take place at 19:00 GMT, he said.
Supt Matt Bullivant said on Tuesday: "I understand how much of an impact this will have on the community and on the wider public, and people can expect to see a large police presence in the area this evening and beyond while our investigation continues.
"Anyone with concerns should feel free to approach our officers and ask questions, but I urge people not to speculate about the circumstances, especially on social media platforms."
The force said no-one else was hurt in the incident and that the child's family was being supported by officers.
Assistant Chief Constable Dennis Murray wrote on Twitter: "Terrible news in Milton Keynes this evening, a four-year-old girl has been killed after a dog attack.
"Please respect the family privacy at this incredibly tragic time."