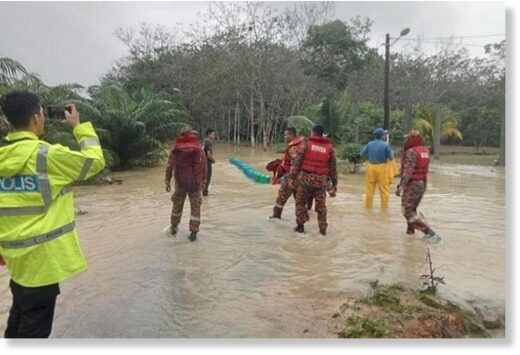 The number of flood victims seeking shelter in relief centres in Johor state rose to 1,093 in the late afternoon on Tuesday, as several districts were inundated with rising river waters amid the heavy rain. Johor's State Disaster Management Committee had earlier said some 422 victims were forced to move to relief centres.
Most of the victims were from the northern district of Segamat, with 975 people from 273 families placed at eight relief centres, officials said.
Other districts hit by the flood were in Kluang in central Johor and Kota Tinggi in the east of the Malaysian state. Many of the victims were villagers who live close to
rivers that have overflowed their banks after days of non-stop rains.
Officials on Tuesday warned that four rivers in Johor had reached the red "dangerous level", while two others had reached the orange "warning level", making evacuations to relief centres necessary. The flood had caused several road closures in the Kota Tinggi and Segamat districts.
Meanwhile, Johor Civil Defence director Kamal Mokhtar said the department is monitoring areas with a history of being flooded.
He said: "We have placed our personnel at some of the low-point areas and near rivers in Johor.
"The rain is not only affecting some areas but the whole state of Johor, and we would like to advise members of the public to always be alert to the Malaysian Meteorological Department's updates. Those who are living in high-risk areas should also move out early and not wait for the enforcement agency to move them out."
On Monday, the National Flood Forecasting and Warning Centre, a unit within the Irrigation and Drainage Department, warned that six states - Johor, Melaka, Negeri Sembilan, Pahang, Perak and Selangor - are at risk of being hit by flash floods within the next 24 hours.
Source: THE STAR/ASIA NEWS NETWORK