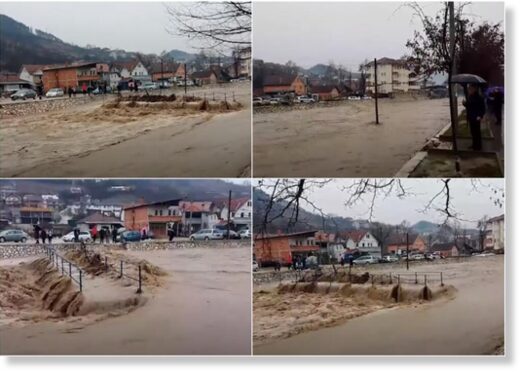 Emergency teams in Serbia Thursday were searching for two people swept away by a swollen river in a southwestern town as floods led to evacuations and emergency measures, state RTS television reported.
Heavy rainfall this week across the Balkans has caused rivers to rise dangerously in Serbia, Bosnia and Montenegro, flooding some areas and threatening flood defenses elsewhere.

Floods were also reported in Kosovo and Albania, where high waters soaked agricultural land, blocked roads and caused temporary power outages.
In northern Albania, the local power company had to open sluices and release water from bulging reservoirs, flooding nearby areas for a third time in as many months.
In northern Kosovo, authorities said parts of the town of Mitrovica have been flooded, forcing people to evacuate their homes.
The rain followed weeks of unseasonably warm weather. Temperatures are expected to drop at the weekend, with rain being succeeded by snow.
In the southwestern Serbian town of Novi Pazar, authorities declared emergency measures to cope with the overflowing Raska river. An emergency situation was declared in four more areas in southwest and southern Serbia.
Surging waters reached the center of the town of Tutin, RTS television said, flooding a bus station. Authorities canceled school classes until the situation normalizes.
RTS television said two men in Novi Pazar were carried away by the river while trying to protect their houses with wooden planks and plastic sheeting.
There was no official information about the incident. The RTS said a third man also fell into the river but was later pulled out.
Serbian police said 84 people evacuated their homes because of the flooding.
In neighboring Montenegro, rescuers in the past two days have been searching for a 13-year-old boy who was dragged into the Adriatic Sea by a huge wave in the coastal town of Herceg Novi.
Heavy rain in northern Montenegro also caused rivers to reach critically high levels, while strong winds and waves lashed coastal areas. Landslides caused by rain hampered traffic on some roads in the country.
In Bosnia, authorities said they are monitoring the situation after river levels rose considerably. Dozens of homes in the country have been flooded but no casualties have been reported.
"We expect the peak of the water wave during the day to be followed by stabilization," said Bosnian hydrology official Majda Kovac.
Major floods in the region in 2014 claimed dozens of lives while submerging entire towns and villages.
___
Llazar Semini contributed from Tirana, Albania.
Source: AP