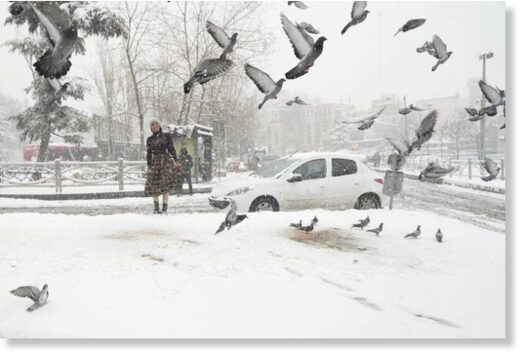 Tens of thousands of Iranians were left without gas to heat their homes at the weekend
as unusually cold weather swept across the country,
the state broadcaster reported.
Gas deliveries were cut to about 90,000 residential users in the north-eastern Razavi Khorasan province by Saturday night, Governor Yaghoub-Ali Nazari said on national television.
Supplies were also disrupted in at least four other northern provinces and several districts at the tail end of the national gas pipeline network near the country's eastern borders, according to reports by state TV.
President Ebrahim Raisi paid an unannounced visit on Sunday to the national gas company and was briefed on the supply situation.
Mr Raisi told employees at the National Iranian Gas Company that the closure of offices and organisations was not a suitable solution in addressing the shortage.
He said the priority was the delivery of gas to houses, Tasnim news agency reported.
Officials said most of the country was experiencing
freezing temperatures unseen in the last decade
, which has driven demand for the heating fuel to record highs.
Authorities ordered the closure of schools, state-run offices and privately owned businesses across Tehran province on Sunday and called on people to avoid travel to the city of Mashhad, home to Iran's holiest pilgrimage shrine that attracts millions every year.
Oil Minister Javad Owji said shortages were made worse after Turkmenistan on Thursday halted gas exports to meet its own domestic demand. Iran relies on those deliveries to supply its northern regions.
"We are gas independent, but we are at the peak of gas consumption," Mr Owji said last week. "Our first priorities are domestic, so sustainable consumption is required."
The shortage has had a knock-on effect in Iraq, which depends heavily on Iranian gas to operate its power plants.
Since early this month, Iran has reduced its natural gas exports to Iraq to about 7 million cubic metres per day, Iraqi Electricity Ministry spokesman Ahmed Mousa told The National.
"We need between 30 to 50 million cubic metres a day from Iran," he said.
"Therefore, the reduction has affected our ability to meet the demand and has increased power outages across the country."
He said Iraq has lost up to 5,000 megawatts from its national grid, which produces about 16,000MW.
Iraq's Electricity Minister is scheduled to visit Tehran this week to discuss the issue, Mr Mousa said.
The cold spell in Iran has also affected its road transport, with one route in Isfahan province forced to close
after more than two metres of snow fell early last week
. Officials said the road could not be reopened until spring if the snow was not cleared, the Iran press agency said.
With reporting from Sinan Mahmoud in Baghdad