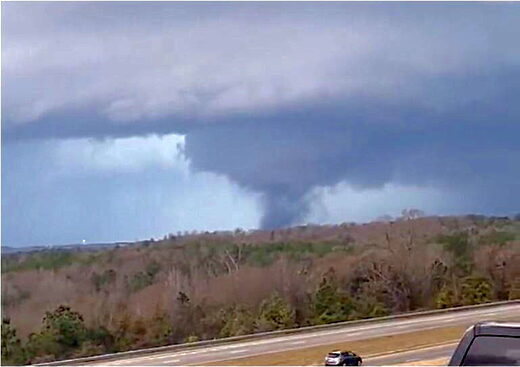 Multiple tornadoes ripped across Alabama on Thursday, including a particularly dangerous one near Selma, causing extensive swaths of damage.
A large and destructive tornado ripped through the Selma, Alabama, area Thursday afternoon as a severe weather outbreak struck the southern United States.
Selma, located about 40 miles west of Montgomery, was in the path of a large and extremely dangerous tornado around 12:30 p.m. local time on Thursday. Emergency response teams in Selma were providing assistance and cleaning roadways as of Thursday afternoon, according to an online post by the city.
Residents across Selma were told to seek shelter and avoid traveling on area roadways. Downed power lines were also reported throughout the region.
"We are asking everyone to stay calm and stay in place until further notice,"
The City of Selma posted
, urging residents to report any damage reports to 911.
Several tornado reports scattered across central Alabama as the tornado tore through the region. Significant structural damage was first reported south of Greensboro, Alabama, just before 11 a.m. local time Thursday. A tree was observed on a home in Greensboro, Alabama, shortly after. By around 11:30 a.m. local time, trees were observed down along Highway 219 near Oakmulgee in southern Bibb County. The tornado crossed US-82 southeast of Centreville, according to a report from the National Weather Service.
A tornado emergency was issued for Autauga County, Alabama, just before 1 p.m. local time.
The National Weather Service in Birmingham
alerted residents they were in a life-threatening situation and to take shelter immediately. This was the first tornado emergency issued in 2023 and the most recent since Nov. 4, 2022.
A compilation of drone footage of the storm's effects:
The tornado shown in the video northwest of Montgomery, Alabama, was from the same supercell thunderstorm that caused tornado damage in Selma, Alabama, earlier this afternoon, according to AccuWeather meteorologists. The storm formed near Eunice, Louisiana, early this morning and has tracked over 500 miles.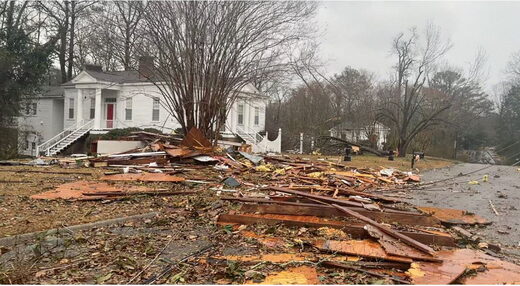 A second trail of storms was reported starting at about 12 p.m. local time when a tornado was reported along Highway 22 west of Oroville, Alabama. Another report indicated the Selma Country Club had sustained heavy damage which was followed shortly by a report of major structural damage along US-82 near Vida Junction.
"Selma has received significant damage from the tornado. Everyone has been asked to use 911 to report damage and stay away from downed power lines. City crews are out clearing right of ways and providing assistance," The Office of Mayor James Perkins, Jr. told AccuWeather on Thursday.
Numerous roadways in Joffre and Old Kingston suffered heavy damage. Severe damage was reported along County Road 68 in the area of US-31 near Prospect, Alabama.
The City of Eutaw, Alabama, urged those traveling to stay away from the area as crews cleaned up. "Effective immediately, the City of Eutaw is closed for traffic and we encourage everyone to stay home off the roads and safe until we can clear the area," Eutaw Mayor Latasha Johnson told AccuWeather.
Multiple tornadoes from earlier on Thursday, including an EF1 in Mercer County, Kentucky, and at least EF1 damage in Boyle County, Kentucky,
have already been confirmed
by National Weather Service survey crews.
An additional EF 1 tornado was confirmed in Kentucky on Thursday by the National Weather Service, bringing the total number of confirmed tornadoes in Kentucky on Thursday to at least three.
No injuries or fatalities were reported in Mercer County, Kentucky, where two homes suffered extensive damage and several barns were damaged.
"[The tornado] could have been really bad but thankfully no one was hurt," Mercer County Emergency Director Brad Cox told AccuWeather.
A metal building in Mercer County was picked up, rotated and dropped back on its foundation except it was facing the opposite direction, according to Cox.
Later on Thursday, multiple damage reports spanned across Georgia as the severe weather moved east. Severe structural damage was seen at a Hobby Lobby in Griffin, Georgia, along with additional damage to a Walmart and AutoZone in the area.