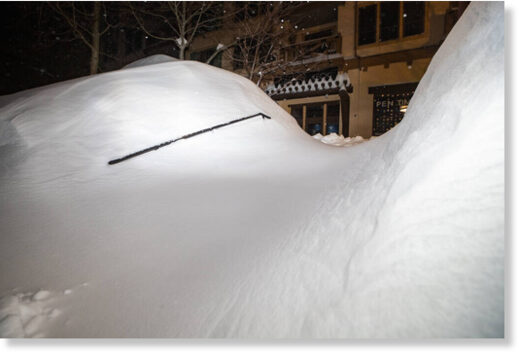 The latest snowstorm to hit the Truckee-Tahoe region dropped about 2 feet of snow in the last 24 hours which led to an emergency declaration and the closure of highways and schools on Tuesday and much more snow may be on the way.
Tahoe ski resorts are reporting up to 2 feet of snow, some a little more, some a little less, and the National Weather Service in Reno has a winter weather advisory in place from 10 a.m. to 10 p.m. Wednesday for more accumulation, including 2 to 5 inches at lake level and 5 to 10 inches above 7,000 feet. The evening work commute may be impacted. Strong winds are expected to gust as high as 70 mph which the service said could lead to extensive tree damage.
According to the Tahoe Snow app, Heavenly Mountain Resort has received
26 inches of snow in the past 24 hours
with Palisades Tahoe reporting 21 inches, Kirkwood Mountain Resort 19, Sierra-at-Tahoe 16 and
Northstar California reported the most at 27 inches.
Interstate 80 was closed on Tuesday due to whiteout conditions and has since been reopened, and chains and/or snow tires are required on most Truckee-Tahoe highways, except from the "Y" in South Lake Tahoe to Stateline on US-50 and for a few miles on SR-89 near Tahoma.
For road conditions, call 511, or visit
Caltrans Quickmap
or
https://www.nvroads.com.
The Nevada County Board of Supervisors on Tuesday declared a local emergency due to the recent winter storms that have brought substantial rain, high winds, and significant snowfall at higher elevations, resulting in damage to county roads due to fallen trees, debris flows and culvert failures.
"Our Public Works team has been working 24/7 to keep roads safe and wastewater systems running," said Community Development Agency Director Trisha Tillotson. "Last night, our road teams rapidly responded and had a roadway reopened within two hours of the report that a tree fell into a power line overnight. Since the storms began in late December, our wastewater team has treated over 20 million gallons of wastewater and worked the equivalent of 40 days of overtime to keep our systems running. Please drive safe and slow, and report issues to us so we can respond quickly."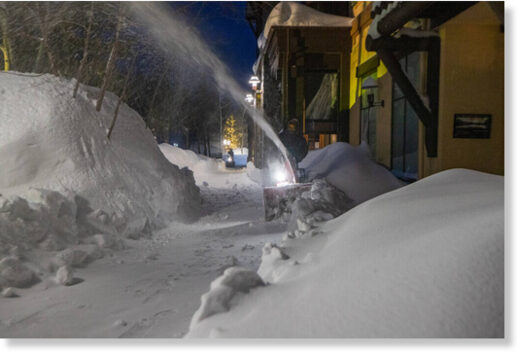 Nevada County joined 18 others in California that have proclaimed local emergencies due to the series of winter storms, in addition to state and federal emergency declarations. The local emergency proclamation allows the county to respond more effectively to winter storm impacts, seek and utilize mutual aid as needed, obtain state and federal funding where it's available, and ensure the county has the necessary tools to endure the ongoing weather events.
And the ongoing weather events will continue.
After the weaker storm on Wednesday, Tahoe will receive a brief break from stormy weather Thursday into Friday.
The service said it may be a good time to "Take advantage of this break to clear gutters and drains, and to restock supplies before a series of storms impacts the region this weekend into early next week."
The service expects a series of storms to enter the region beginning on Friday which will bring the potential for significant travel impacts.
Waves of moderate-to-heavy snowfall are expected in the Sierra through the weekend with multiple feet of snow possible.

Additional storms remain possible through next week.