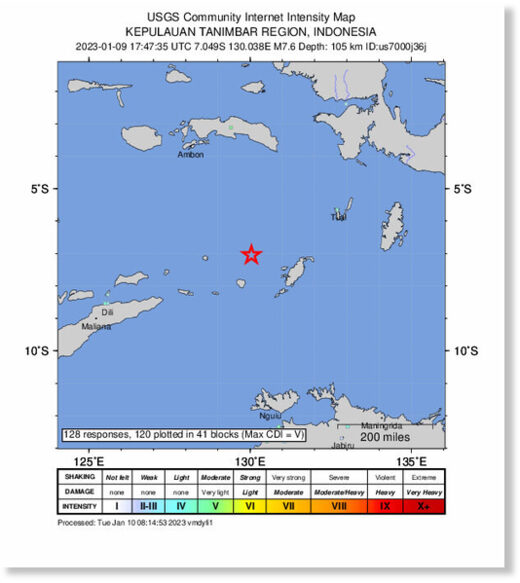 Indonesia was rattled by a 7.6-magnitude deep-sea earthquake that damaged village buildings in the lightly populated island chain of Tanimbar earlier today, prompting panicked residents to flee their homes.
Two school buildings and at least 15 homes were damaged in the Tanimbar islands, said Indonesia disaster agency officials, with one person injured.
"Local residents felt strong tremors for three to five seconds. There was panic when the quake shook so the residents left their houses," Abdul Muhari, a spokesperson of the National Disaster Mitigation Agency, said in a statement, citing the local agency.
The quake struck at a depth of 130km at 2.47am local time in the Banda Sea, near the Tanimbar islands in Maluku province having a total population of 127,000 people, according to 2021 data. While a tsunami warning was put in place by local authorities, it was lifted after about three hours at 5.43am.
A substantial tremor was also felt in northern Australia, with reports indicating at least four aftershocks in the northern parts of the country.
More than 1,000 people in northern Australia, including in the city of Darwin, were cited by Geoscience Australia as having felt the quake. The Joint Australian Tsunami Warning Centre said also the quake didn't pose a tsunami threat to the mainland or any islands or territories.
Australian singer Vassy tweeted that it was the longest quake she had felt.
"We ran out of the house in the middle of the night I've never experienced earthquake that lasted that long and felt so strong. It was rather scary," Ms Vassy wrote. "Woke us up in the middle of the night."
Apart from northern Australia, tremors were felt in other regions, including Papua and East Nusa Tenggara provinces.
"Based on our observation of four tide gauges around the earthquake's epicentre... there was no anomaly detected or no significant changes of sea level," said Dwikorita Karnawati, the head of meteorology, climatology and geophysical agency, during a news conference, as he advised people living near the coast to continue with their activities.
Indonesia frequently grapples with earthquakes as it lies on the Pacific "Ring of Fire", an arc of seismic faults around the Pacific Ocean where most of the world's earthquakes and volcanic eruptions occur.