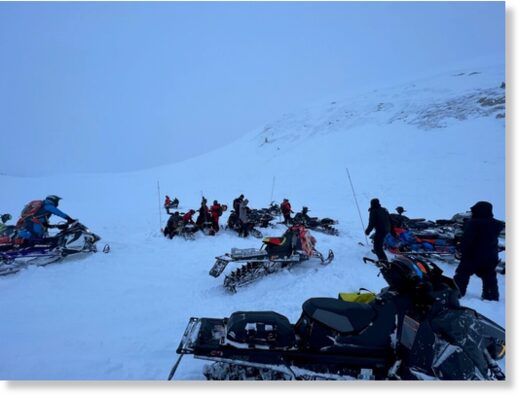 A 58-year-old man was killed and another man is missing after they were struck by an avalanche in the north-central Rocky Mountains on Saturday, authorities in Colorado said.
The pair were riding snowmobiles when a wave of snow hit them on the east face of Mount Epworth in Grand County, about 6 miles east of Winter Park, according to the Colorado Avalanche Information Center.
The avalanche was reported about 2:15 p.m., and responding sheriff's deputies, search-and-rescue crews, ski patrol members, and local good Samaritans found the 58-year-old from northern Colorado buried in snow, the Grand County Sheriff's Office said.
They couldn't revive him, and he was pronounced dead at the scene, the office said in a statement. The man's identity was expected to be released later by the county coroner, it said.
The other rider could not be located, and first responders had to stop the search as the weather got worse, the sheriff's office said. Rescuers plan to relaunch their efforts Sunday.
The avalanche center said the 58-year-old was located with the help of his transceiver, designed to transmit the location of lost or buried mountain visitors.
The missing man did not have an avalanche transceiver, the avalanche center said.
The National Weather Service reported high temperatures in the area below 30 degrees, with overnight lows dipping into the single digits.
There have been three deaths in Colorado avalanches since Dec. 26, according to avalanche center data, two of which have been in Grand County.
"We encourage those recreating in our backcountry to regularly monitor the conditions and follow the advice of our avalanche professionals at Colorado Avalanche Information Center," county Sheriff Brett Schroetlin said in a statement.
On New Year's Eve, a father and his adult son were backcountry skiing when they were struck by an
avalanche near Breckenridge Ski Resort,
about 65 miles south of Winter Park.
The father was able to dig himself out, according to the Summit County Rescue Group, but his son was buried and his body recovered roughly two hours later.
On Dec. 26, four backcountry riders, including skiers and snowboarders, were struck by an avalanche triggered unintentionally by a snowboarder near Berthoud Pass, about 55 miles west of Denver, the avalanche center said. Two were buried, and one of those two died, it said.
The avalanche center said the riders included a father, who died, and his three teenage sons. Officials later identified the father as Brian Bunnell, 44, of Lakewood, Colorado, according to NBC affiliate
KUSA
of Denver.
The Rocky Mountains have been dusted repeatedly by Pacific storms fueled by an atmospheric river of precipitation drawn from tropical climes. The avalanche center said another such front was expected Tuesday.
Snow can pile up in areas preferred by many backcountry skiers. Both of the fatal December avalanches occurred in areas that were areas easy to access,
KUSA reported.
"Inside ski area boundaries, we have very dedicated ski patrols and snow safety teams that will work really hard to mitigate threats from avalanches inside ski area boundaries," Brian Lazar, deputy director of the avalanche center, told the station last month. "Just on the other side of that rope there is no one doing that work."
Of the 20 people caught in avalanches during the 2021-22 season, seven people died, according to the avalanche center.