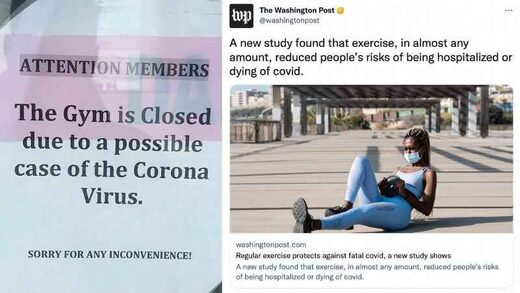 On Wednesday, the
Washington Post
published a new study that claims that exercise, "in almost any amount," reduces the risk of hospitalization or death from Covid.
Following the publishing, the outlet was slammed for previously supporting
lockdown
measures, which included the closures of places like gyms.
"The study found that exercise, in almost any amount, reduced people's risks for a severe coronavirus infection," the
Washington Post
wrote of the study published in the
American Journal of Preventative Medicine
earlier this month.
"Even people who worked out for as little as 11 minutes a week — yes, a week — experienced lower risks of hospitalization or death from covid than those who moved about less."
In response to the
Washington Post
's story on Twitter, a number of people blasted the outlet and others for the revelation, coming nearly three years after the onset of the pandemic.
"Probably shouldn't have closed all the gyms while featuring fat people on health magazine covers," wrote Babylon Bee CEO Seth Dillon. "Censoring the truth every step of the way didn't help, either," he added.
"I remember when this was 'disinformation' and even 'fatphobia," wrote Florida Governor Ron DeSantis rapid response director Christina Pushaw.
Rep. Marjorie Taylor Green wrote, "Throwback to when I posted 'this is my covid protection' workout video & received nonstop hate from people."
"13.5 million views should have done the workout with me," she continued. "Remember all those gyms, playgrounds, & parks, governments shut down during covid? They literally killed people."
Radio show host Colin Dunlap wrote, "I remember when they closed our gym but the liquor store was open."
Another Twitter user noted
Atilis Gym
in New Jersey, the owners of which were charged with fourth-degree criminal contempt of the court for refusing to lock down their business.