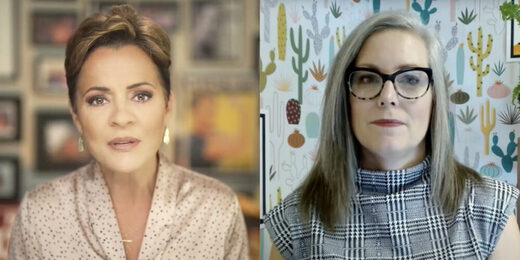 Former Republican candidate for Arizona governor,
Kari Lake
, has filed a post-election lawsuit which listed her Democratic opponent, Governor-elect
Katie Hobbs
, who is also the Arizona secretary of state, along with election officials in Maricopa County, and challenged the certification of the midterm gubernatorial election.
Lake is contesting her loss to Hobbs and says malfunctioning voting machines and the discovery of Hobb's office contacting Twitter to take down certain posts contributed to her defeat.
According to local news
, "Lake claims there were thousands of illegal votes, that Arizona Secretary of State and Governor-elect Katie Hobbs and Maricopa County Recorder Stephen Richer were involved in government censorship, and that whistleblowers saw 'violations' in the chain of custody of ballots."
The lawsuit
, filed Friday, lists Hobbs, Maricopa County Elections Director Scott Jarrett, County Recorder Stephen Richer, and members of the Maricopa County Board of Supervisors, including Chairman Bill Gates, Clint Hickman, Jack Sellers, Thomas Galvin, and Steve Gallardo, as defendants.
The lawsuit alleges that "The number of illegal votes cast in Arizona's general election on November 8, 2022 far exceeds the 17,117 vote margin," and that "Witnesses who were present...show hundreds of thousands of illegal ballots infected the election in Maricopa County."
On the midterm Election Day, Maricopa County, the most populous county in Arizona, experienced
malfunctions in over 25 percent of the tabulator machines
.
One poll worker who spoke out shared
that about 500 voters were disenfranchised
at his location alone, saying that the majority of the people waiting in line never made it inside the location to cast their votes.
Last week, Elon Musk's release of the "Twitter Files" internal Twitter documents revealed that
Hobbs
' office reached out to have tweets involving the election taken down.
In response to the lawsuit, Hobb's team released a statement.
"Kari Lake needs attention like a fish needs water - and independent experts and local election officials of both parties have made it clear that this was a safe, secure, and fair election," Hobbs posted on Twitter.
"LFG," Lake said, which is short for "let's f*cking go," after filing the suit.