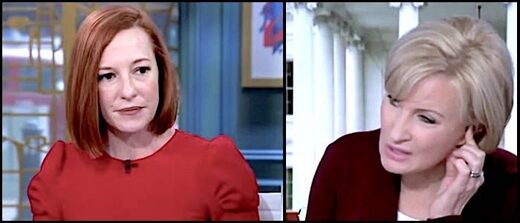 White House Press Secretary Jen Psaki fumbled through an interview on MSNBC's
Morning Joe
on Friday after the more than disappointing job reports broke live on air, prompting her to scramble for a way to spin the unimpressive numbers in President Joe Biden's favor.
"So 210,000 — so if we look at that breaking news right now, that's a number that feels a little, what? A little off?"
Mika Brzezinski asked.
Psaki originally claimed she was not allowed to comment on the new information until a set time later in the morning.
"Well, I know this sounds a little archaic, but I can't comment on them until 9:30. By rules since I work at the White House,"
Psaki said.
Her response was met with friendly laughs from the
Morning Joe
panel before she offered the White House's official spin regardless of the report's contents.
"I will say what people can expect the president to continue to say today, month to month, is that what we're seeing are good trends,"
Psaki said.
Dow Jones economists had
predicted
that more than 570,000 jobs would be added in November, but new statistics released by the U.S. Department of Labor suggest only 210,000 jobs were created.
Fox News
reported that
"there are still about 3.9 million fewer jobs than there were last February"
before the government-induced economic shutdowns began. Some of these jobs are located in the restaurant and hospitality industry, which has experienced a nearly 7 million job recovery since the beginning of COVID-19 but
still misses pre-pandemic levels by 1.3 million.