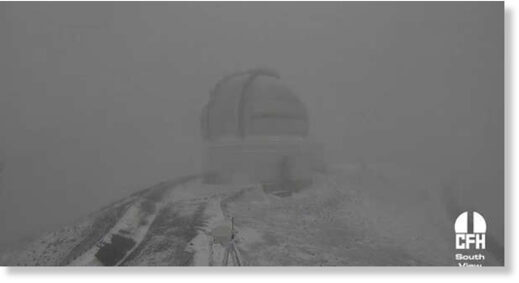 Snow blankets Mauna Kea summit in Hawaii. Video credit: Canada-France-Hawaii Telescope
A time lapse of surveillance camera footage from the top of dormant volcano showed a wintry scene on the tropical island of Hawaii.
The video was filmed on December 1 and 2 at the Mauna Kea summit around the Canada-France-Hawaii Telescope (CFH Telescope) observatory.
CFH Telescope representative, Mary Beth Laychak told Reuters in a message that there were no staff at the summit presently as they observe the area remotely from their Waimea offices.
The National Weather Service (NWS) issued a rare blizzard warning expecting at least 12 inches of snow with wind gusts at about 100mph (160 kilometres per hour) at the Big Island summits on their Friday (December 3) weekend forecast.
NWS added in a tweet that snowfall for the highest elevations (above 11,000ft) in Hawaii is "fairly common".