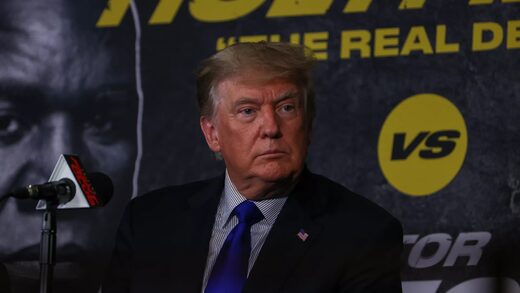 Comment: What a disingenuous title. "Pro-Capitol riots"? Even if the editors can't accept that the January 6th incident at the Capitol wasn't a riot, surely they can see that Trump obviously doesn't think it was and therefore isn't "pro-riot".


Former President Trump on Thursday expressed solidarity with people facing prosecution in connection to the Capitol insurrection.
The statement was issued ahead of
Saturday's rally
to protest the treatment of Capitol rioters. Over
600 known federal defendants
face charges related to the Jan. 6 insurrection.
Rioters committed
over 1,000 assaults
against police officers, according to prosecutors.
"Our hearts and minds are with the people being persecuted so unfairly relating to the January 6th protest," Trump said in a statement.
"In addition to everything else, it has proven conclusively that we are a two-tiered system of justice. In the end, however, JUSTICE WILL PREVAIL!"
The "Justice for J6 rally" is organized by a nonprofit group led by former Trump campaign staffer Matt Braynard. Trump has not indicated whether he will attend or participate.
The U.S. Capitol Police asked the Department of Defense to
provide support in the form of National Guard troops
should they become necessary on Saturday.
The protective fence set up around the Capitol following the riot has been
reinstalled ahead of the rally
.
Multiple congressional offices will also be closed Friday as a
security precaution
.
In the
lead-up to the Capitol riots
, Trump had told his supporters he would join them on their march to Congress to "show strength."
He ultimately did not join the rioters, nor did he issue any address as they breached the Capitol.
Later that day, he appeared in a video message, still claiming "we had an election that was stolen from us" before telling his supporters to go home. "We love you," he said. "You're very special."