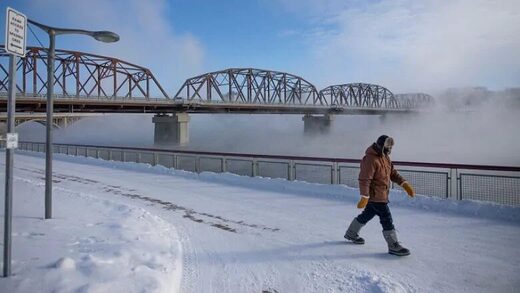 A polar vortex continues to bring bitter cold to the Prairies, resulting in cancellations of schools and buses in all major Prairie cities.
A mass of cold air arrived on Sunday, setting daily temperature records in Alberta, Saskatchewan and Manitoba.
According to Environment Canada, 22 cold-weather records were broken throughout the three provinces.
The coldest temperature was recorded in Uranium City, about 1,045 kilometres northwest of Regina, where it was -48.9 C, breaking a previous record of -40 C set in 2019.
In Alberta, the lowest temperature was recorded in Fort Chipewyan, about 710 km northeast of Edmonton, where it was -47.3 C, breaking the previous record of -45.6 C set in 1936.
Edmonton International Airport was close to breaking a daily record. The temperature reached a low of -43.8 C, with the previous record set on the same day in 1994 at -43.9 C.
In Manitoba, the temperature was a bit higher — but not by much. The community of Roblin, about 405 km northwest of Winnipeg, set a new record of -42 C, breaking the previous record of -40.6 set in 1972.
Rest of article
here
.